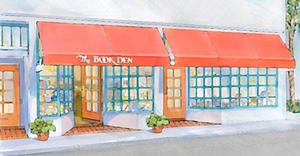 Congratulations to the Book Den, Santa Barbara, Calif., which is celebrating its 120th anniversary on Thursday, October 6, from 5 to 9 p.m. The store will have some displays and bookstore historian Charles Johnson will be on hand. Drinks will be served.
Owner Eric Kelley noted that the store is not precisely sure when the Book Den was founded, saying, "In 1901, there was no bookstore at 1257 Broadway in Oakland. And in 1902, there was." The Book Den had two locations and three owners while in Oakland. In 1933, the store was moved to Santa Barbara, opening on February 19 at 15 East Anapamu Street, where it remains to this day.
Kelley bought the Book Den on April Fool's Day, 1979. At that time, the store sold mostly used books. The inventory was computerized in the 1990s, and Internet sales started in 2001. In 2010, with the exit of Borders and Barnes & Noble, the Book Den started adding new books to its inventory and became a new and used bookstore.
While the Book Den's staff of five has a total of 198 years of bookselling experience, none were on hand when the store was founded.