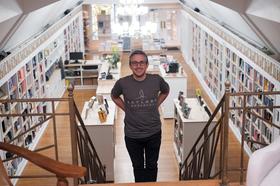 Alex George
The 2022 Midwest Bookseller of the Year is Alex George, author and founder of Skylark Bookshop, Columbia, Mo. The award, sponsored by the Midwest Independent Booksellers Association, honors "booksellers who make an extraordinary impact on their community."
MIBA noted that in Columbia, "a mid-America college town with a population of just over 100,000, you'll find Skylark Bookshop, an elegant bookshop with a simple motto--'Because Books.' But as anyone who knows Skylark understands, this seemingly simple philosophy is also a deeply held value of the store's owner, Alex George, and it has led him to become a powerhouse of literary accomplishment. Because of Alex George, Columbia has become a literary haven where the community comes together to celebrate the transformative power of books and reading."
George is the author of three novels, A Good American (2012), Setting Free the Kites (2017), and The Paris Hours (2020). MIBA noted, "When [George] attended festivals across the country to promote his books, he realized Columbia was a fertile place to grow a literary festival, and that's how Unbound Book Festival was born in 2016. The 10,000 people who enjoy this literary weekend each year reap the fruits of Alex's year-long commitment to creating a transformative experience for attendees. In his capable hands, the festival became instantly successful, hosting marquee authors such as Michael Ondaatje and Salman Rushdie in the first two years of its existence. In 2019, author George Saunders attended and said, 'Events like the Unbound Book Festival will save this country.'...
"Along with his business partner Carrie Koepke, Alex opened Skylark Bookshop in August 2018. With 2,700 square feet and nearly 20,000 titles in stock, Skylark instantly become a vibrant facet of the community....
"While factions of society are limiting or outright banning freedom of expression, Skylark is proudly celebrating it. They've launched a Banned Books subscription service, circulating these important books to their customers with 10% of proceeds going to the Banned Books program run by EyeSeeMe African American Children's Bookstore in St. Louis. Sklyark also brought their popular Drag Story Hour roaring back to life after the pandemic to celebrate gender inclusivity....
"Alex Goerge says that Skylark Bookshop would never have existed without Carrie Koepke, his partner in founding the store and the current manager, and shares his gratitude for their incredibly talented team of booksellers, some of whom have been with Skylark from the very start: Beth Shapiro, Erin Regnieri, Matthew May, Maile Newberry-Wortham, Rilla Patterson, Kara Cheslock, Henry Nguyen, and Sky Koepke, and Mary O'Malley."
George will be given the award during the Heartland Fall Forum October 12-14 in St. Louis, Mo.