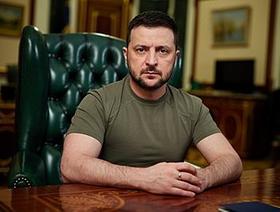 Volodymyr Zelensky
The Lviv BookForum, Ukraine's largest literary festival, has opened with messages of support from President Volodymyr Zelensky and participants including Margaret Atwood and Neil Gaiman. The aim of the forum is to create a civic space for a free and tolerant exchange of ideas between writers and readers. The hybrid program--combining in-person and virtual live appearances--blends 40 writers and thinkers "in 15 conversations encompassing art in times of conflict, memory, gender equality, loss, corruption, imperialism, and hope," organizers noted.
As digital partner for the first time, Hay Festival is broadcasting the conversations free online in English, Spanish and Ukrainian to a global audience, while bolstering the program with a slate of online events pairing international writers with their Ukrainian counterparts.
In his opening statement of support, President Zelensky said: "I sincerely welcome BookForum in hospitable Lviv, an important book publishing event that holds its intellectual front in this difficult time. For more than half a year, the world has witnessed how Russian aggression has been destroying our territories, Ukrainian culture, language and books as a symbol of freedom and indomitability of our people. Today, when the Armed Forces of Ukraine are courageously defending their native country from the enemy invasion, it is vitally important for us to preserve our national culture and identity. That is why, on all platforms, we bring the truth to the world about what is happening now in Ukraine, about the Russians' arbitrary actions and crimes against humanity."
Margaret Atwood commented: "Putin's war is an attack on democracy and freedom, not just in Ukraine but around the world. In joining the Lviv BookForum and Hay Festival program, I support Ukrainian writers and readers as they share their work. May this theatre of ideas and talent inspire more to raise their voices and share their gifts."
Neil Gaiman added: "It's an honor and a privilege to be a part of the 29th Lviv BookForum. It's Ukraine's biggest literary festival, and it says a lot that, even in the dark days of a war that should never have been necessary, the festival continues in a brave act of resistance and allows writers like me to stand in solidarity with the writers and the readers of Ukraine. With the help of Hay Festival the programming of the Lviv BookForum can reach millions of people around the world. And that includes you, wherever you are. Come and listen and learn."
Lviv BookForum curator and journalist Sofia Cheliak said: "The role of public intellectuals is not only to interpret reality, but also to illuminate it and in so doing influence the world around us and the paths we take. Our program is built to tackle uncomfortable questions, to which there may not be an unequivocal answer. This is a space for writers and readers to ask questions and tell their stories, a conversation that runs in defiance of the evil that seeks to squash our freedom. Please join us."
---
President Zelensky is also scheduled to appear during the Frankfurt Book Fair this year, at the joint invitation of Frankfurter Buchmesse and the Federation of European Publishers. Zelensky will address the book community via video on Thursday, October 20, at 12:30 p.m. in Room Harmonie of the Congress Centre. This will be followed by a speech from European commissioner for culture Mariya Gabriel.
Ukraine will have a collective stand at Frankfurt in Hall 4.0 B 114, under the motto "Perseverance in Persistence," the Bookseller reported. Organizers estimate more than 100 Ukrainian publishing professionals and authors will be in attendance.
"Ever since the start of the invasion, FEP together with Börsenverein des Deutschen Buchhandels [the German book trade association], have reached out to our Ukrainian counterparts and offered support," said Peter Kraus vom Cleff, FEP president and managing director of the Börsenverein. "What Ukraine is doing now, is standing up for our rights and our values. The whole book community must continue its engagement so that publishing in Ukraine can remain vibrant. I thank President Zelenskyy for having chosen Frankfurt for his intervention and invite all colleagues to join us to listen to him and the commissioner for culture."
Juergen Boos, president and CEO of Frankfurter Buchmesse, said, "The Frankfurt Book Fair has maintained close relations with publishers, authors and industry-related institutions in Ukraine for many years and has carried out numerous trade fair participations, publishers' training courses and specialist programs in recent years. This year, it is very important to us to enable and support the networking of Ukrainian colleagues with their partners worldwide, and to let many Ukrainian intellectuals, publishers, authors and cultural workers have their say at the Frankfurt Book Fair to report on the current situation. We want to create publicity and raise awareness of what is at stake." --Robert Gray