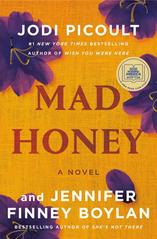 Alex Kanenwisher, book buyer at Costco, has selected the novel Mad Honey by Jodi Picoult and Jennifer Finney Boylan (Ballantine, $29.99, 9781984818386) as the pick for November. In Costco Connection, which goes to many of the warehouse club's members, Kanenwisher writes:

"Olivia McAfee's life is upended when her husband reveals a dark side. She and their son, Asher, end up in Olivia's hometown, where she takes over her father's business.

"They settle into their new lives, but everything is turned upside down when Asher becomes a suspect in the murder of Lily, his girlfriend.

"Jodi Picoult and Jennifer Finney Boylan capture all of the complexities of familial relationships--including love, loss and the power of secrets."