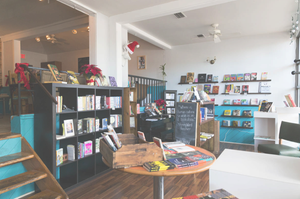 Third House Books, Gainesville, Fla., held a grand reopening last week, after being closed to browsers since March 2020, when pandemic lockdowns started.
Owner Heather Halak, who is the sole bookseller in the store, is immunocompromised, which led her to stay closed to browsers longer than most other stores, and now she is requiring customers to wear masks. If customers don't wear masks, she turns them away. "Good riddance," she told alligator.org. "Those aren't the people I want shopping in my store--people trying to kill me."
The bookstore opened in 2016 and moved into its current, larger location only three months before having to close in 2020.
Third House Books specializes in titles from small independent presses and marginalized voices and has an unusual approach to inventory. It carries no more than 300 titles at a time, so that customers can "browse nearly every title in a relatively short amount of time without becoming overwhelmed." The store also carries T-shirts and puzzles.