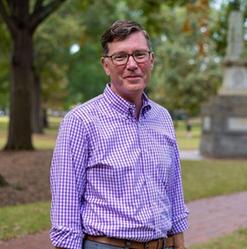 Michael McGandy
Michael J. McGandy has been named director of the University of South Carolina Press, effective today, succeeding former director Richard Brown.
McGandy most recently was at Cornell University Press for 14 years, as acquisitions editor, senior editor and editorial director of Three Hills, the CUP's regional trade imprint. Earlier he was associate editor for Macmillan Library Reference/Thompson Media, associate managing editor and associate editor in Norton's professional books division, and acquisitions editor at Rowman & Littlefield Publishers.
McGandy said, "UofSC Press is a place where I will bring my expertise in developing publishing programs, my extensive networks and strong reputation in scholarly communities, my commitment to diversity and inclusion, and my passion for building partnerships so as to help UofSC Press flourish in the 2020s and beyond."
He added that he has "a strong editorial vision for UofSC Press, one that builds on the press's recent growth, reflects my industry experience, and is predicated on publishing books that matter." He aims to emphasize books with popular appeal plus the authority of serious, scholarly literature. "For those books that take risks and say things that might provoke some people in the public sphere, having that authority behind them is really important."