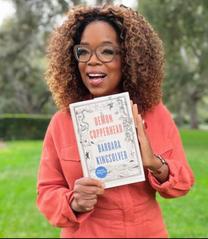 Oprah Winfrey has chosen Demon Copperhead by Barbara Kingsolver (Harper) as her latest Oprah's Book Club selection.
Winfrey said: "This is the second time I've chosen one of Barbara Kingsolver's novels for my book club--22 years ago we named The Poisonwood Bible as a selection. Her latest book grabbed me from its opening lines. I so admire the way Barbara has taken the plight of a young boy and invited us on his journey through loss, the foster system, addiction, and so much more. The novel speaks to so many of our country's relevant issues, but most importantly, it's absolutely riveting. Can't wait to hear what other readers think!"
Upon hearing the news, Kingsolver noted: "Getting that call from Oprah is the highest literary prize on the planet, if you ask me. Not just because of the powerful way she connects books and readers, but because of the reader she is herself. I could barely hold it together when she described my own book to me on the phone--her appreciation of the craft, the empathy, and how it touched her personally."
On November 17, Oprah will join Kingsolver and Oprah Daily Insiders for an interactive book club gathering.