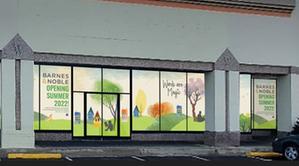 Barnes & Noble hosted a ribbon-cutting ceremony this week for the opening of its new Pikesville, Md., bookstore at 1809 Reisterstown Rd. in the Festival at Woodholme. The location is "a stone's throw away across the parking lot from its previous location," which had closed after 19 years in business, the company said. It is also situated near one of B&N's sister stores, Paper Source.
This is the 11th store B&N has opened this year, with another 30 in development for the near future, compared to 15 new stores opened in the nine years from 2010 to 2019, according to the company, which added, "We are very pleased to retain a bookstore in Pikesville where for so many years Barnes & Noble has been a central part of this community. Store manager Carmin Windsor and the bookselling team have been working diligently to build this brilliant new store, and we very much look forward to our first holiday season in our new home."
Windsor commented: "Every community needs a bookstore. I feel that we will continue to be a place of discovery for Pikesville, and our team has been busy visualizing all the possible ways we can better connect with readers in the community. I have been a B&N bookseller for 22 years, and I am local to the Baltimore area. Opening this store has been extra special for me, and I cannot wait to welcome our customers, both new and old, into our doors."