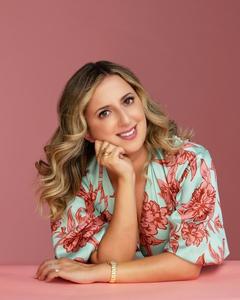 photo: Shane O'Neal
Melody Godfred is the Self Love Philosopher. As a poet, author and speaker, she is devoted to empowering people to love themselves and transform their lives. Her poetry has been featured by Oprah magazine and Today with Hoda and Jenna, among others. Her debut poetry collection, Self Love Poetry: For Thinkers & Feelers, was called one of the best poetry books of 2021 by Woman's Day. The Shift: Poetry for a New Perspective (Andrews McMeel, September 27, 2022) is its sequel.
Handsell readers your book in 25 words or less:
The world has changed--but thankfully so have we. The Shift: Poetry for a New Perspective embodies the best of who we are now.
On your nightstand now:
Breaking the Habit of Being Yourself by Joe Dispenza. For anyone who wants to free themselves from their habits and transform into someone more intentional, this book is an absolute must.
Self Love Poetry: For Thinkers & Feelers by Melody Godfred. Writing this book was very much a form of self-therapy, and I now use the book as an oracle. I flip to any page each night and whatever poem I land on is my reminder to practice that specific form of self love the next day.
The Every by Dave Eggers. A deliciously written and somewhat terrifying work of fiction that feels a little too close to reality, given the way tech companies infiltrate and control our lives.
Conscious Language: The Logos of Now by Robert Tennyson Stevens. A friend recommended this book recently and I've only just gotten started. The thesis of the book is that the language we use (down to the precise words we choose) plays an important role in crafting our realities.
Atlas of the Heart by Brené Brown. Language has always been so important to me--it is such a gift to have leaders like Brené Brown lovingly and thoughtfully break it down.
Favorite book when you were a child:
Where the Sidewalk Ends by Shel Silverstein. He addressed the nuances of life with such depth and lightness at the same time. Where the Sidewalk Ends has stayed with me and served as inspiration for the poetry and illustrations in my book The Shift.
Your top five authors:
Every season of my life has been inspired by different kinds of authors, but perhaps the most consistent inspiration has been authors who write memoirs. My earliest memory of reading a memoir was I Know Why the Caged Bird Sings by Maya Angelou. Joan Didion similarly captured me with The Year of Magical Thinking and Blue Nights. These memoirs awakened me to the power of one woman's story and words. While not memoirs, I also continually return to the works of Bret Easton Ellis like Less Than Zero and The Rules of Attraction, perhaps because they are loosely based on Ellis's own experiences going to private schools and growing up in my hometown of Los Angeles.
The writers who have most impacted my work as a poet include Toni Morrison and Mary Oliver. Toni Morrison taught me the ability to use words to transport readers to rich, evocative worlds like she did in Jazz and Song of Solomon. Mary Oliver's poetry (Devotions) taught me that even in the simplest of landscapes, you can find life, hope, inspiration and faith.
Book you've faked reading:
This is a true story: many years ago, a nail salon hired me to conceptualize and execute a book club to add some value for their customers. I chose Never Let Me Go by Kazuo Ishiguro, but when the day came to facilitate the book club meeting, I had yet to read the book. I quickly skimmed and read some CliffsNotes and led the book club with gusto. I later returned to the book and finished it. I remain haunted by its beauty and poignancy.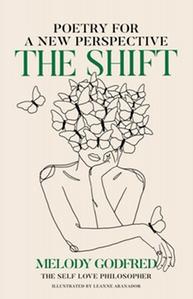 Book you're an evangelist for:
I tend to be an evangelist for the latest book I've read. Currently it's a tie between The Body Keeps the Score by Bessel van der Kolk and Breaking the Habit of Being Yourself by Joe Dispenza. Both revealed to me the unparalleled power of my own mind.
Book you've bought for the cover:
For a long time, rainbows were my calling card. As a result, I couldn't resist picking up a copy of The Female Persuasion by Meg Wolitzer, despite the fact that the majority of the books I buy these days are on my e-reader. Thankfully, the book's bold cover was the perfect complement to the author's powerful writing.
Book that changed your life:
Be Here Now by Ram Dass is the first book that made me gasp on nearly every page while experiencing a full body aha moment. Ram Dass had a very special ability to express everything without needing a single word more than necessary. He shifted my consciousness in a way that impacts my poetry daily.
Favorite line from a book:
"Let me fall if I must fall. The one I will become will catch me." --the Baal Shem Tov, the epigraph before the opening line of Hourglass by Dani Shapiro. The book itself is one of my favorite memoirs, but this opening line is the one that has become ingrained. In one line, my fear of failing was obliterated.
Five books you'll never part with:
Concerning the Spiritual in Art by Wassily Kandinsky taught me that to create art is a spiritual endeavor and should be honored as such. He explained, "The spiritual life, to which art belongs and of which she is one of the mightiest elements, is a complicated but definite and easily definable movement forwards and upwards."
Reading Letters to a Young Poet by Rainer Maria Rilke felt like the universe coaxing me to write--without self-judgment. "There is only one single way. Go into yourself."
I consulted A Poetry Handbook by Mary Oliver before writing The Shift: Poetry for a New Perspective. While I didn't follow every rule she set forth, I did feel a deep sense of alignment with her approach and mine, which steadied me as I embarked upon writing The Shift, which contains some of my most personal reflections to date as a poet.
Someone gifted me The Boy, the Mole, the Fox and the Horse by Charlie Mackesy at the very beginning of the pandemic. It immediately lifted me out of the most fearful time of my life.
I read The War of Art by Steven Pressfield shortly after signing my publishing deal. It's the book that most validated my decision to trust my intuition and go all in as a full-time author.
Book you most want to read again for the first time:
Oh what I would give to read Textbook Amy Krouse Rosenthal by Amy Krouse Rosenthal for the first time again. Not only is it the most innovative memoir I've ever read (you can text the book!), when I first started reading it I didn't know the author's personal story. Learning her story made this memoir that much more impactful for me. If you haven't read it, please do.