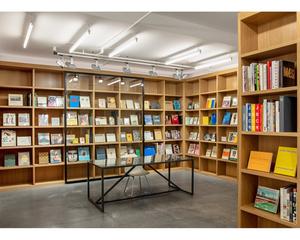 Art dealer and gallerist Harper Levine "is expanding his empire" with a new Harper's Books location, which opened recently in Manhattan at 504 West 22nd Street in Chelsea, Time Out reported, adding, "Functioning as both a purveyor of tomes and a showroom, the new space takes over two levels and specializes in rare printings and art books." In addition to his first bookshop in East Hampton, Levine manages a network of art galleries across New York and Los Angeles.
The opening coincided with the return of Printed Matter's NY Art Book Fair after a three-year, pandemic-induced hiatus. The celebration was held over the former Dia building at 548 West 22nd Street, "just steps away from the new Harper's bookshop and art gallery Harper's Chelsea," Time Out wrote.
Levine said that "opening a bookstore in New York, my hometown, has been a lifelong dream of mine. I can't wait to see how the new shop interacts with our existing galleries on the same block. My career has been built around the relationship between books and art, so this next venture is the culmination of over 25 years exploring these goals."
He added that "in the early years when I roamed the world looking for material, I could have never predicted where those journeys would lead. This new chapter on 22nd Street is the most exciting journey yet."