Two independent bookstores in Sanibel, Fla., that were hard-hit by Hurricane Ian on September 29 have been providing updates on social media about their recovery efforts.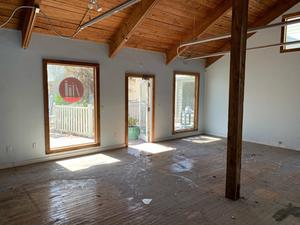 "It's been a long (almost) month," Rebecca Binkowski, owner of MacIntosh Books + Paper, posted on Facebook Sunday. "Today we finished cleaning out our space so that Benchmark Construction can begin assessing the damage and formulating a plan. We have so many people to thank for their beautiful words of encouragement and support. It's been a wild, emotional ride and our community is stronger than ever. It will all be ok."
Earlier this month, Binkowski had paid tribute to the cleaning crew: "My amazing daughter, Ava and two-thirds of what she affectionately calls my Old Lady Posse, Kim and Lisa. These ladies are my rocks. My ride or dies and I can't thank them enough for helping me sort my treasures and wipe my tears. It was a lot. I took photos but I won't post them. I'd prefer that you remember how beautiful our bookshop was. I know that we will make it beautiful again, together. That's all for now. I'm absolutely wiped out and most definitely grateful I almost forgot, there's a snuggly shot of Mr. Brady, too."
On October 15, Gene's Books posted on Facebook: "The devastation of Hurricane Ian is not to be minimized, but we have hope for the future of Gene's Books. A few members of our team have been on-island and assessed the damage to our stores firsthand, and although we cannot say we have great news, we can say with certainty that we do not intend to give up on what we love. No matter how long it takes, no matter where we end up, our allegiance is to you, our loyal and amazing customers, and we will not let you down. In the coming days as we continue to meet with our Gene's Books family, we will be posting more frequent updates as we crystalize our plans going forward. Everyone stay safe, and thank you for your continued love and support. We WILL be back, and we'll be better than ever."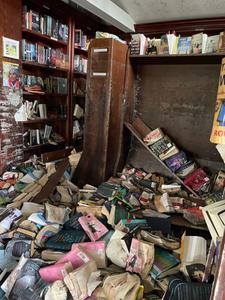 After sharing two photos on October 20 showing "what a difference a hurricane can make," Gene's Books has continued to chronicle the challenges faced in several posts, noting last weekend: "These pictures are devastating to share, but you all have a right to see what we have been grappling with for what has been, incredibly, almost a month now. This is our mystery cottage. The first thing you see when you walk into Gene's Books. You can see the storm surge line, the mold growing on the ceiling. All of these books bloated with water, never to be cherished in the hands of a reader.
"In short, we are heartbroken. We're hurting so bad. For the employees, this was our happy place. We were family. This was our home, and now we're lost. Ian came through and took away the thing we loved most. As the person running this account, it's hard for me to find words to describe to you the pain that we feel--but, then again, I don't have to. I see it in your comments, and in all the lovely messages you send. You are hurting just as bad as we are, and all we can do is feel this hurt together, and hope to move forward into the future. Thank you for everything. Thank you, thank you, thank you."