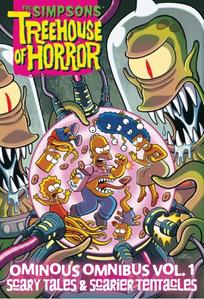 The Simpsons Treehouse of Horror Ominous Omnibus Vol. 1: Scary Tales & Scarier Tentacles by Matt Groening, introduction by Bart Simpson (Abrams ComicArts, $39.99, 9781419737121)
I've always watched The Simpsons' Treehouse of Horror specials in the days leading up to Halloween. The gentle humor and familiar characters coupled with the absurdist Twilight Zone-esque premises of Treehouse episodes makes me feel like I'm watching my own family get thrown back in time or be replaced by a malevolent alien species. Pure comfort. Despite being both a Simpsons and a comics superfan, I've never thought to open a Simpsons comic until I received the Treehouse of Horror Ominous Omnibus. The packaging is what first compelled me: glow in the dark with a die-cut slipcase that features the characters we know and love getting swallowed by a Vortex. It quickly became one of my favorite books of the year. Reading these short comics felt like watching a secret season of episodes that was accidentally lost by the network. The Simpsons have become such a universal cultural language that different writers and cartoonists can all contribute to the canon in an imaginative way that still clearly has a place in the Simpsons universe. Filled with fun extras and memorable stories, the Ominous Omnibus is a major boon to Simpsons fans.
How to Handsell: The Simpsons' Treehouse of Horror: Ominous Omnibus has multiple Eisner-winning short stories, collectible trading cards and paper dolls designed by beloved Earth-invading aliens Kang and Kodos. This omnibus is a delightful addition to the series that occupies an indelible spot in the collective imagination.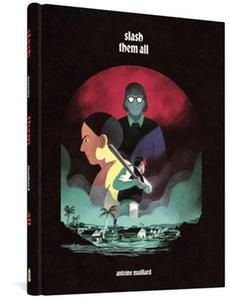 Slash Them All by Antoine Maillard (Fantagraphics, $29.99, 9781683966579)
Slash Them All, wow. Reading this graphic novel felt like waking up in a John Carpenter film. This is Antoine Maillard's debut, which is hard to believe because there's such a mastery of pace, mood, and visual storytelling all in one context. This is a writer and cartoonist who knows his voice and knows how to tell the stories he's drawn to.
Slash Them All takes place in a mostly idyllic seaside town that has several shady corners. High school students party, play video games, ditch class, and when the story starts, a few are found murdered. The creepiness of this story is found in the intense shading, the pages with no dialogue, and the genuine mystery of the story. Maillard is a cartoonist to keep your eye on.
How to Handsell: The Slasher and Film Noir genres collide in this moody mystery with exquisite storytelling. Slash Them All belongs at the center of your Halloween displays.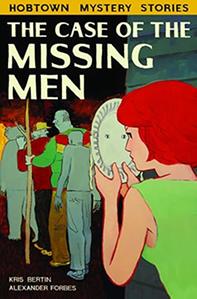 Hobtown Mystery Stories #1: The Case of the Missing Men (Conundrum Press, $20, 9781772620160)
Like Slash Them All, The Case of the Missing Men also shines a spotlight on the teenagers living in a seemingly idyllic but actually creepy coastal town. Unlike Slash Them All, this graphic novel is less classic horror and more a vehicle for the surrealist Lynchian camp. Stock characters--the troubled new kid, the hot-headed jock, the straight-A student--are deployed ironically in Missing Men, which allows readers to latch onto familiar tropes only long enough for them to be subverted. At the center of the novel is a Detective Club run by a group of teens. Several middle-aged men have started to go missing, including the father of one of the teens. As in The Hardy Boys or Stranger Things, the kids are compelled to investigate the bizarre events in their town against the advice of adults. Replete with secret societies, hallucinations, and unexplainable phenomena, The Case of the Missing Men is a fun variation on a beloved genre, perfect for the Fall season.
How to Handsell: This offbeat backlist title with a Nancy Drew-inspired cover features a group of industrious teens trying to uncover the mysteries below the surface of their peaceful town. This cozy series-starter will draw you in; I've already started book 2.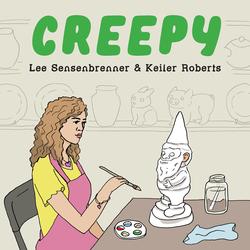 Creepy by Keiler Roberts and Lee Sensenbrenner (Drawn & Quarterly, $16.95, 9781770466197)
From the author of My Begging Chart, Creepy is the parable for technology overconsumption that you need to read. The message? Stay away from your screens or else a creepy lady will eat your ears.
This "children's book for adults" is in fact a perfect bedtime story for children, too. Told with a stony simplicity and paired with equally deadpan illustrations, Creepy is both a parable and an anti-parable. Of course, the consequences of the technology-centered childhood are significant and far-reaching in a way we're just beginning to understand, but Roberts and Sensenbrenner don't really aim to contend with these weighty issues. Instead, they've written a playful little book about a woman who spends all day on the hunt for her favorite meal: ears. What more could you ask for?
How to Handsell: Creepy is perfect for those in the Halloween spirit, and a good stocking stuffer for readers of all ages looking for an ironic take on the cautionary tale.