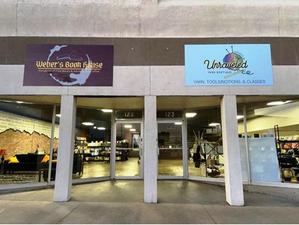 Weber's Book House, a general-interest bookstore and coffee shop offering titles for all ages, opened for business on October 21 in Paragould, Ark.
Owner Austin Weber carries about 90% new books with a small selection of used titles. The shop has a particularly large children's section as well as a wide variety of adult books pertaining to history and current events. There are a handful of bookish sidelines including bookmarks, book stickers and sets of philosophy flashcards. And while he has yet to host any events, Weber does plan to start once he gets past the "mayhem of opening."
"We're trying to have something for everyone," Weber said.
Weber's Book House has about 1,200 square feet of selling space and shares a 3,500-square-foot storefront with Unraveled Yarn Boutique, a knitting and yarn store owned by Weber's wife, Petra Weber. The two stores, Weber explained, are clearly delineated but not separated, and customers can freely walk from one to the other.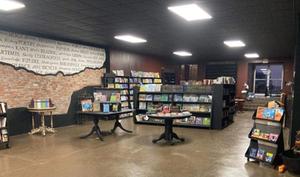 Asked about his prior experience in bookselling, Weber said he's been in construction for pretty much his entire career, but had been wanting to transition to a line of work that "wasn't quite so strenuous." And in January, after he and his wife had a miscarriage, they realized they were both "ready for a change in our lives."
Weber described himself as a lover of books and noted that prior to the pandemic, readers in Paragould would typically go to a Barnes & Noble store at a mall in nearby Jonesboro, Ark. In spring 2020, however, an EF4 tornado struck that mall and destroyed the bookstore. He and his wife also noticed that as the pandemic has waned, "everyone's ready for something to physically go and do."
"We saw a need for a bookstore in the community," he said. "We were in a position to open one and said, let's go for it."
So far, Weber continued, the community has responded very well to the bookstore. News of the opening got a "huge response" on social media and while he did not keep an exact headcount on opening day there were about 120 transactions last Friday. For a town of 30,000 people, he remarked, "that's not too bad."