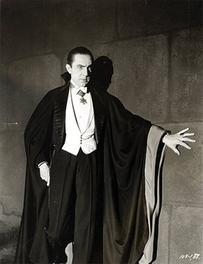 Readers can be scary, too. Take Count Dracula, in his library, sharing his love of reading with a guest, Jonathan Harker (via Bram Stoker):
"I am glad you found your way in here, for I am sure there is much that will interest you. These companions--and he laid his hand on some of the books--have been good friends to me, and for some years past, ever since I had the idea of going to London, have given me many, many hours pleasure. Through them I have come to know your great England; and to know her is to love her. I long to go through the crowded streets of your mighty London, to be in the midst of the whirl and rush of humanity, to share its life, its change, its death, and all that makes it what it is. But alas! as yet I only know your tongue through books."
I've known the Count since I was a kid, but this Halloween season I was frightened by something I had never seen before. Remember Charlton Heston (I know, that's scary enough) at the end of the movie Soylent Green, screaming, "Soylent Green is people!"? Well, a few days ago on Facebook, my eyes were scarred forever when they saw an Instagram post featuring Paul Simic's Pumpkin Spice Soylent Green shirts.
But let's talk business. WalletHub reported that total spending on Halloween-related expenses is projected to reach $10.6 billion this year. Of that, $3.6 Billion will go to costumes and $3.1 billion to candy. Notably, the Bureau of Labor's inflation data shows that the cost of candy has surged more than 13.1% in the U.S. since last September.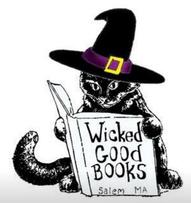 Wait, that's scary, too. Let's return to safer Halloween territory: ghosts, witches and skeletons. My social media feed has been haunted for a couple of weeks now by indie bookstore posts anticipating the big night Monday, including a "sign o' the times" from Wicked Good Books, located in what is arguably Halloween's U.S. capital, Salem, Mass.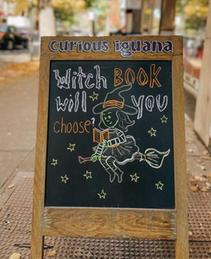 Speaking of signs, sidewalk chalkboards have also been scary reads this month outside indie bookstores like the Bookworm, Bernardsville, N.J.; Read Between the Lynes, Woodstock, Ill.; Curious Iguana, Frederick, Md.; Naughty Dog Books, Nashville, Ind., and many more.
And here are some more Halloween indie bookstore treats:
Afterwords Books, Edwardsville, Ill.: "Books > candy (although we have candy, too). Stop by your little local indie bookstore for all things HALLOWEEN."
Charm City Books, Baltimore, Md.: "Spooky seazn is upon us and Ruthie May wants you to get a limited edition spooky tote made here at the shop! They come in orange and white, and if you get one any time this month you can bring it back Halloween Weekend Oct 29th-Oct 31st and everything you fit inside it is 20% off! There aren't many left so make sure you snag one so you can get that 20%! *also observe Dominique's excellent modeling if you swipe left*."
Burke's Book Store, Memphis, Tenn.: "Our Halloween 'Witch's Hut' window is up, designed and constructed by Chloe Mesler."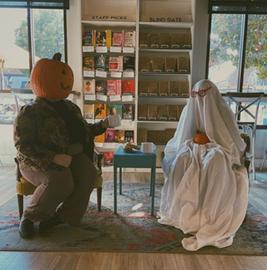 Auburn Oil Co. Booksellers, Auburn, Ala.: "When your friends match your energy!"
Whitelam Books, Reading, Mass.: "We can't get enough of Kat and Tim's retelling of a classic in gourd form, The Pumpkin of Dorian Gray. This pumpkin has been up to some questionable stuff, clearly! Come check out our amazing pumpkin window today during Downtown Trick or Treat."
McLean & Eakin Booksellers, Petoskey, Mich.: "Must be the season of the WITCH! We're playing the song on repeat here in the store in honor of spooky season. Get all your witch themed books today before Halloween is upon us."
Books Around the Corner, Gresham, Ore.: "Want to know your bookseller even more?! Your Halloween Queen is now officially a pumpkinhead. After a spooky event out I was able to have a mini pumpkin photo shoot. A full one and a ghost one eventually will happen. Remember Halloween is a state of mind and it lives in my heart all year and I try to bring it to yours year round."
Beausoleil Books, Lafayette La.: "Come join us TONIGHT for a Halloween edition of Bad Poetry Night!... There will be an open mic for all your ghoulish, ghastly, and ghost-filled poems so bring something to read (whether written by you or Mr. Edgar Allan Poe, it matters not)."
Writer's Block Bookstore, Winter Park, Fla.: "Our beautiful Winter Garden Halloween display!!! Stop by to see the witchy wonderland in person."
M. Judson Booksellers, Greenville, N.C.: "Don't freak out, but we've got scary books for grown people too. Bone chilling stories to keep you up at night, haunting tales that'll stay with you long after reading. ⁠Our booksellers can put together a stack of creepy classics and new favorites before you can say BOO. "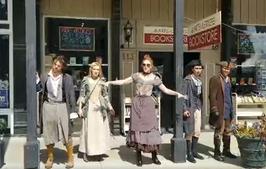 Arts & Letters Bookstore, Granbury, Tex.: "Just had a great pop up performance by the characters of THE SLEEPY HOLLOW EXPERIENCE... so much talent!"
Speaking of Sleepy Hollow, let's conclude this literary seance by calling upon the ghost of Ichabod Crane, Washington Irving's doomed schoolmaster. After Crane's unfortunate encounter with the Headless Horseman, the executor of his estate, Hans Van Ripper, "examined the bundle which contained all his worldly effects.... As to the books and furniture of the schoolhouse, they belonged to the community, excepting Cotton Mather's History of Witchcraft, a New England Almanac and a book of dreams and fortune-telling.... These magic books and the poetic scrawl were forthwith consigned to the flames by Hans Van Ripper; who, from that time forward, determined to send his children no more to school, observing that he never knew any good come of this same reading and writing."
Happy Boo(kish) Halloween, scary readers!!