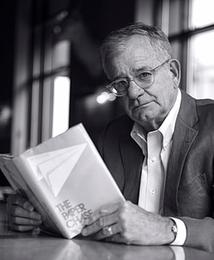 John Jay Osborn Jr.
John Jay Osborn Jr., author of The Paper Chase, the 1971 novel set at Harvard Law School that was made into a movie and a TV series, died on October 19 at the age of 77.
While attending Harvard Law School, Osborn wrote The Paper Chase, his best-known book, which "tells the story of two antagonists: Kingsfield, an austere, curmudgeonly Harvard elder, and Hart, an industrious first-year student from the Midwest who is trying to survive the cutthroat intellectual world of an elite law school," the New York Times wrote.
In the 1973 movie, which was written and directed by James Bridges and starred John Houseman as Kingsfield and Timothy Bottoms as Hart, Kingsfield tells the class: "You teach yourself the law, but I train your mind. You come in here with a skull full of mush. You leave thinking like a lawyer." Houseman won an Oscar for best supporting actor for the role.
In the TV series, which ran between 1978 and 1986, Houseman played Kingsfield again while James Stephens played Hart.
Osborn went on to write several other novels, TV and film scripts and simultaneously had a long career as a lawyer and law professor, often teaching, like Kingsfield, contract law.
His other books included The Only Thing I've Done Wrong (1977), a family drama; The Associates (1979), about life at a Wall Street law firm; The Man Who Owned New York (1981), about a lawyer trying to recover $3 million missing from the estate of his firm's biggest client; and Listen to the Marriage (2018), set in the office of a marriage counselor. He wrote 14 episodes of the TV series The Paper Chase as well as episodes for L.A. Law and Spenser: For Hire.