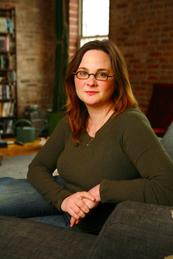 Julie Powell
Julie Powell, the writer whose decision to spend a year cooking every recipe in Julia Child's Mastering the Art of French Cooking led to a popular food blog, the Julie/Julia Project; a movie starring Meryl Streep; and "a new following for Child in the final years of her life," died on October 26, the New York Times reported. She was 49.
In 2002, Powell was an aspiring writer, about to turn 30, who was working at an administrative job in Lower Manhattan. To lend structure to her days, she set out to cook all 524 recipes from her mother's well-worn copy of Child's 1961 classic Mastering the Art of French Cooking, Volume 1. In a blog for Salon.com called the Julie/Julia Project, she "wrote long updates, punctuated by vodka gimlets and filled with entertaining, profane tirades about the difficulties of finding ingredients, the minor disappointments of adult life and the bigger challenges of finding purpose as a member of Generation X," the Times noted.
A few weeks before Powell's self-imposed deadline was up, Amanda Hesser, a founder of the website Food52 who was then a reporter for the Times, wrote about her project, and interest exploded. Hesser told the Times that the Julie/Julia Project had upended food writing: "I'd never read anyone like her. Her writing was so fresh, spirited--sometimes crude!--and so gloriously unmoored to any tradition.... The Internet democratized food writing, and Julie was the new school's first distinctive voice."
Writer Deb Perelman, who started her food blog (now called Smitten Kitchen) in 2003, observed: "She wrote about food in a really human voice that sounded like people I knew. She communicated that you could write about food even without going to culinary school, without much experience, and in a real-life kitchen."
Little, Brown turned the blog into a book, Julie & Julia: 365 Days, 524 Recipes, 1 Tiny Apartment Kitchen, which sold more than a million copies, most of them under the paperback edition's title, Julie & Julia: My Year of Cooking Dangerously. Sales spiked after Nora Ephron's popular 2009 movie Julie & Julia, which starred Amy Adams as Powell, Streep as Child and Stanley Tucci as Child's husband, Paul.
Powell's second book, Cleaving: A Story of Marriage, Meat and Obsession, was published in 2009 and would be her last. Judy Clain, editor in chief of Little, Brown and Powell's editor," said, "She had so much talent and emotional intelligence. I only wish she could have found the next thing."