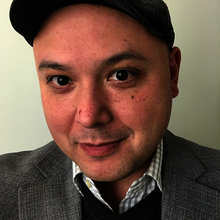 Rob Arnold
Rob Arnold has been named executive director of Poets House, effective December 1. He has more than 15 years of management experience in the literary and publishing world and as a consultant to arts and cultural organizations, and was most recently interim executive director of Hugo House in Seattle, Wash. He is also a poet whose work has been nominated for the Pushcart Prize and supported by organizations such as the Somerville Arts Council, Jack Straw Cultural Center and Artist Trust. His poems have appeared in Ploughshares, Hyphen Magazine, Gettysburg Review, Poetry Northwest, RED INK, Yes Poetry, the Ocean State Review, Peripheries and the Volta.
Poets House board chair Robert Kissane said that Arnold "brings a wealth of leadership and management experience, a vibrant passion for literature and a deep commitment to Poets House's mission and audiences as we embark on our next chapter." The organization also noted that Arnold is Poets House's first Indigenous (Pacific Islander) leader.
Arnold commented: "Poets House offers something precious to the world and to the community of poets--a home for all poets and poetry and a library that makes all the riches of poetry available to everyone. I am thrilled with the opportunity to take on its leadership. I hope to build on the legacy of vision and good work that has made Poets House a beacon to poets across the country."
Cornelius Eady will continue as interim executive director until November 30 and will remain involved with the organization. He will launch and co-host Poets House's new weekly radio show on WBAI, Open House, along with poet, writer and educator Patricia Spears Jones. The program makes its debut this Friday, November 4, at 9 p.m. Eastern.
Eady was made interim executive director after Lee Briccetti, who lead the organization for more than 30 years, retired last fall. Under her leadership, Poets House said, it "evolved into one of the premier literary organizations in the country and one of the great poetry libraries in the world. Briccetti created the Poets House Showcase, established Poetry in the Branches--a national model for poetry in libraries--and led the campaign that established a permanent home for Poets House in Battery Park City."
Board chair Kissane thanked Briccetti for "her inspired and groundbreaking leadership of Poets House. With great compassion, integrity, and vision, Lee opened a warm, welcoming space to a wide-ranging and diverse community of established and emerging poets. The impact of her able stewardship will be felt for generations to come."