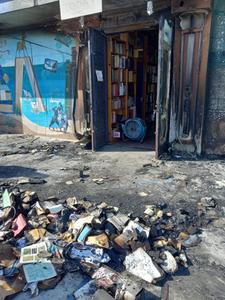 Iliad Bookshop in Los Angeles, Calif., has launched a GoFundMe campaign following an arson attack last week that caused heavy damage to the bookstore's main entrance, CBS News reported.
At about 11:30 p.m. last Thursday, someone stacked Iliad's free books against the doors and lit them on fire. Luckily, one of the bookstore's neighbors saw the fire and flagged down a passing fire truck. Owner Daniel Weinstein noted that if the firefighters had arrived any later, "the entire store would probably have gone up."
The front doors were damaged and need to be replaced or repaired, and Iliad Bookshop "lost lighting fixtures, signage and wood framing; we also suffered damage to the mural on the right side of the doors." And although smoke filled the inside of the store, they were able to rescue the bookstore cats Zeus and Apollo, and Weinstein and his team are hopeful there was little damage to the inventory and fixtures.
The person who set the fire also taped flyers to the bookstore's walls. Weinstein explained that despite being rambling and incoherent, they led him to believe that antisemitism was a possible motive for the attack.
"It could have been, I mean I'm Jewish, so maybe the antisemitism movement that's happening," Weinstein told CBS. "Maybe I'm a victim of that. Maybe somebody just didn't like our customer service here."
Money raised by the GoFundMe will go toward repair costs and paying a mural artist. The campaign has already raised more than $27,000.