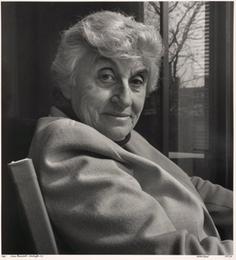 Doris Grumbach
(Photo by Robert Giard © Jonathan Silin)
Doris Grumbach, who in novels, essays and literary criticism "explored the social and psychic hardships of women trapped in repressive families or disintegrating marriages, and who, as modern feminism came of age in the 1970s and '80s, portrayed lesbian characters and themes in a positive light that was then unusual in mainstream fiction," died November 4, the New York Times reported. She was 104.
Grumbach wrote seven novels, six memoirs, a biography of the writer Mary McCarthy, and book reviews and literary criticism for the New York Times, the Washington Post, the Los Angeles Times, the Saturday Review and other publications. She was also the literary editor of the New Republic and a commentator on NPR and The MacNeil/Lehrer NewsHour on PBS.
A scholar of medieval and modern literature, she had been the wife of a neurophysiologist for 31 years, the mother of four daughters, an officer in the Navy women's branch during World War II, and a professor of literature and creative writing at several colleges and universities. After she divorced in midlife, she and Sybil Pike, a bookseller, were partners for more than four decades.
From 1960 to 1971, Grumbach taught English at the College of St. Rose in Albany, N.Y. She also began her writing career with the novels The Spoil of the Flowers (1962) and The Short Throat, the Tender Mouth (1964), which attracted little notice, though her literary biography of McCarthy, The Company She Kept (1967), "drew wide attention. Much of it, however, was hostile," the Times noted. Later novels include Chamber Music (1979), The Ladies (1984) and The Magician's Girl (1987).
"Critics disagreed sharply about Ms. Grumbach's strengths and weaknesses as a writer," the Times wrote. "Some said her portraits of lesbian and gay characters and themes were unrealistic, even stereotypical. But others found them lifelike and praised her for unflinching portrayals of women who were engulfed by intolerant social conventions or caught in loveless marriages, and of families unsympathetic to female friendships that ripen into love."
A native New Yorker who had also spent much of her life in Albany and Washington, D.C., she moved in her 70s to Sargentville, a small coastal town in Maine, where she and Pike opened Wayward Books, a used and rare bookshop, and Grumbach "began a new burst of writing, producing her autobiographies and a collection of essays on growing old," the Times noted.
During the 1990s, Grumbach wrote Coming into the End Zone (1991), Extra Innings (1993), Fifty Days of Solitude (1994), Life in a Day (1996), The Presence of Absence: On Prayers and an Epiphany (1998) and The Pleasure of Their Company (2000).
"The most lamentable loss in the elderly spirit is the erosion of hope," she wrote in an op-ed for the Times in 1998. "Still, despite my dire description, we elderly persist with our canes, in our long-term care and miserable nursing homes and 'rehabilitation' centers, and in our seats confronting the idiocies of the tube. In the short run, so to speak, we are all characters in Waiting for Godot."