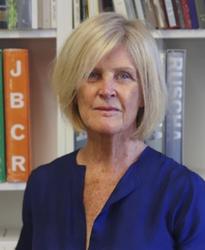 Dagny Corcoran
Dagny Corcoran, an influential arts book dealer and fixture of the Los Angeles art scene, died November 9. She was 77. Corcoran's death was announced by Marian Goodman Gallery, where she had been director of books and multiples. The gallery wrote: "A force of the Los Angeles art scene, Dagny gained recognition for her entrepreneurship behind the independent bookstore Art Catalogues, specializing in current and out-of-print exhibition catalogues and publications on modern art, architecture, and photography. In the early 1970s, Dagny worked for the L.A. branch of Marian's art publishing company Multiples, Inc., where she and Marian formed a longstanding relationship over their shared commitment to quality.⁠"
The Art Newspaper noted that in 1977, after being tipped off that the Pasadena Art Museum, which was in the process of becoming the Norton Simon Museum, was getting rid of all its old catalogues, Corcoran "swooped in to purchase what she estimated to be about 750 books for $1 each. She then used these books as the seed to open the Los Angeles bookstore Art Catalogues, which specializes in exhibition catalogues and other art publications and which remains open to this day."
Art Catalogues began on the second-floor of a storefront on Santa Monica Boulevard in West Hollywood, above her then-husband James Corcoran's gallery. From 2005 to 2009, it operated out of the Museum of Contemporary Art; and from 2010 to 2019 was based at the Los Angeles County Museum of Art. It now has its own location in Culver City.
In a tribute, Los Angeles Times art critic Christopher Knight wrote: "Art Catalogues is her unique legacy, an extraordinary compendium of gallery and museum monographs and other books on hundreds, and maybe thousands, of artists. (Her stock grew to about 10,000 items.) Some were rare, others were signed by the artist or writer, and all were worth having. She considered art books to be cousins to art objects....
"The future of the business has yet to be determined. Since Dagny was Art Catalogues, it will likely unwind. Her physical shops were art world gathering places as much as businesses, and she ran them as a kind of deeply informed hostess. She was great at that.... Corcoran was a bibliophile who didn't hoard books but who delighted in knowing what she could about those within her sphere of Modern art interests and making them available to others. She did the same with people. It's a vital mix that doesn't come along often, and one that will be sorely missed."