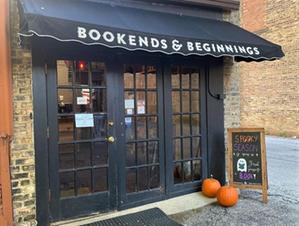 Bookends & Beginnings' current location.
Bookends & Beginnings, Evanston, Ill., will be relocating from its iconic alley space, once occupied by an antiquarian bookstore called Bookman's Alley, to a new home downtown at 1620 Orrington Avenue early next year. Owner Nina Barrett said the move was triggered by a drastic increase in rent demanded by a new landlord who took possession of the property over the summer.
"We had to face the fact that as much as this eccentric, back-alley ambiance had always been integral to our identity, remaining here was going to be unsustainable for us financially," she said.
The new storefront occupies a high-visibility spot just off the city's central Fountain Square, where many nearby restaurants generate evening foot traffic that Barrett expects will sustain later hours for the bookstore. She plans to build a better, brighter children's area, a larger event space to accommodate a more robust event schedule, and a limited wine and beverage service to enhance the event and browsing experience for customers.
Barrett said the store will finish out the year in the current space and relocate in January of 2023. Because the holiday season plays such a critical role in the business model of the store, she said, a disruption during the holiday season would have drastic consequences for the store's survival.
In an e-mail to customers announcing the decision, Barrett wrote that in the new location, "we will be breathing life into another historic Evanston space. Built in 1927, the Evanston Landmark Hahn building offers a spacious, high-ceilinged main floor with big front windows and a key amenity we've been managing without for most of our existence: indoor plumbing. Though just two blocks away from our current home, we will now be adjacent to Fountain Square in the heart of downtown, and with improved visibility we expect to enjoy an increase in foot traffic that our semi-secret location down the alley has never attracted. While running a 'speakeasy for books' has had many delights for you and for us, it is not really helpful in the current challenging brick-and-mortar environment to be an overly well-kept secret."
Barrett added that while the move was not entirely of her choosing, "we feel very thankful that the original affordability and legacy of our iconic Bookman's Alley space allowed us to incubate and curate a store that, in less than a decade, has come to be recognized as 'an Evanston institution' and now attracts national recognition for its literary identity."