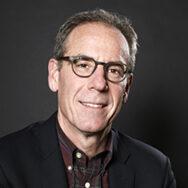 Ken Wright
Ken Wright, president & publisher of the Viking Philomel Flamingo Publishing Group, will retire, effective at the end of January 2023. In making the announcement, Jen Loja, president, Penguin Young Readers, noted that with a search underway for his successor, the group "will be in good hands under the steady guidance" of Tamar Brazis, Jill Santopolo, Margaret Anastas and Ellice Lee, in close partnership with Jocelyn Schmidt.
Wright began his career in publishing in 1985 at Oxford University Press, and over the next 15 years held editorial positions in adult publishing divisions, including at S&S, HarperCollins and Holt. In 2001, he joined Scholastic as an editorial director of the trade division, soon rising to the position of associate publisher. Wright joined Writers House in 2006 as a literary agent representing a range of children's and YA authors, including Ruta Sepetys, John Corey Whaley, David Macaulay, Holly Goldberg Sloan, Deborah Heiligman, Steven Sheinkin, Elizabeth Partridge and many others.

In 2012, Wright returned to publishing with Penguin Young Readers as publisher of Viking, where he was instrumental in the acquisitions of and publishing of the Last Kids on Earth series, the Llama Llama series, and The Boys in the Boat (YA adaptation), as well as books from Amanda Gorman and David Arnold. In 2017, he expanded his team by taking on the leadership of Philomel and grew it further in 2019 by bringing Anastas and Flamingo to the group.

"Not only has Ken built a successful and thriving publishing team during his time here, he has also shown us what it is to be a lovely and gracious colleague," Loja wrote. "Many of you who have had the pleasure of working with, learning from, or chatting with Ken know that he is a truly interested and interesting man. A wonderful conversationalist, terrific reader, and champion of authors and illustrators, Ken teaches us all how to be truly engaged in the work and proud of what we create. We will miss his eye on the books, his knack for a well-timed joke and his presence at many trade shows, lunches and dinners. But we know that Ken has much more to do and that he needs the free time to do it. We wish him well as he sets off on his next adventure and hope that he will stay in touch, let us know what he is reading, and come back to those great author/illustrator dinners every once in a while."