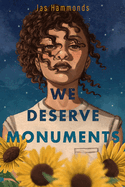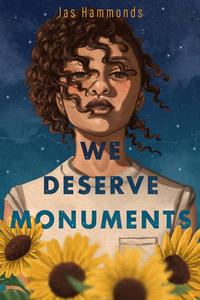 Jas Hammonds joins the literary world with We Deserve Monuments, a mysterious and romantic YA novel featuring a young Black-presenting biracial woman unsure whether to share the decades of concealed truths she uncovers in her mother's hometown.
Although her best friends promised their trio wouldn't change after Avery and Kelsi broke up, 17-year-old Avery feels the shift and wants "an excuse to slip out of Kelsi and Hikari's carefully arranged summer plans." Avery imagines a getaway to the beach or exploring "an unfamiliar metropolis"; instead, her mother, Zora, announces they will be leaving Washington, D.C., and relocating to Bardell, Ga., to care for Mama Letty, the terminally ill grandmother Avery barely knows. Despite Zora and Mama Letty's volatile relationship, Avery wants to develop a bond. She perseveres in gaining the woman's trust even though Mama Letty isn't easy to talk to and is, in fact, quite mean.
Avery allows her relationship with Kelsi and Hikari to fade, and she starts to form friendships with her fascinating next-door neighbor, Simone Cole, and the daughter of Bardell's most prominent family, Jade Oliver--whose mother's murder remains unsolved. As Simone and Avery's friendship blooms into romance, Mama Letty begins to warm up to Avery. But Avery still wonders why Zora and Mama Letty's relationship is so unstable. As Mama Letty's health continues to decline, Avery, haunted by Bardell's racist history, wonders if she should stop digging up the past. The town of only 9,127 harbors many secrets, and Avery's family is not unaffected.
Hammonds's debut is an outstanding, emotional novel that uncovers decades of familial secrets in a racist Southern town. Family, love, prejudice, death, trauma, sexuality and identity are all examined with care and subtlety. Hammonds is thoughtful as they showcase many kinds of love stories, both romantic and familial, and their deliberate and steady plotting connects the lives of the three generations of women. When their truths are finally revealed, the abundance of heart-wrenching revelations will surely leave engrossed readers catching their breath. --Natasha Harris, freelance reviewer
Shelf Talker: A teen new to a small Southern town must decide whether it's worth it to uncover decades of secrets or leave them buried in this outstanding, emotional debut novel.