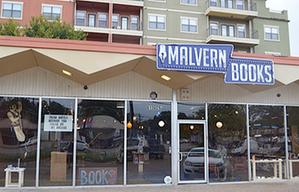 Malvern Books, Austin, Tex., will close December 31, nine years after being launched by the late bookseller and publisher Joe W. Bratcher III, who died this past July 28.
In a Facebook post announcing the decision, manager Becky Garcia wrote: "We've had a wonderful time sharing our favorite books with you over the past nine years, and it's been an honor to celebrate the work of so many brilliant writers through our readings and events. Malvern Books is the realization of Joe Bratcher's vision--Joe dreamt of a bookstore that would carry the books he loved, mostly poetry and fiction from small, independent presses. He wanted to promote writers and translators of books from other countries, while also championing the work of local writers.
"When Joe first talked to me about opening Malvern Books, I must admit I was skeptical. I didn't think we'd find an audience. It was 2012 and everyone was saying that bookstores were dead, Kindle and online shopping were the future. I anticipated many quiet sales days, with Joe and I just sitting there, looking at each other. He told me if that's how it ended up, well, at least we'd have a chance to chat--and since we always seemed to laugh a lot when we talked, it sounded like a good way to spend some time. And so from then on, whenever we'd have a really slow sales day, with just a few people coming in, we'd look at each other and say, 'We're living the dream!' and we'd laugh."
Malvern Books opened in the fall of 2013, and "we were shocked by how many people came by," Garcia recalled. "You showed up and you loved what we had to offer.... All along the way, we were lucky enough to have truly wonderful staff members who loved the books we carried and who helped us build the store we have now. Their work has been invaluable and we could not have done this without them.
"On July 28th of this year, we lost Joe. I can't tell you how hard it has been to try and carry on in this space without him. Our little Malvern world has not been the same since, and, as much as we love this store and our amazing customers, Malvern Books simply cannot continue without our Joe."