Independent booksellers took to social media for #IndiesFirst on #SmallBusinessSaturday to share their experiences and to express gratitude to communities across the U.S. for stepping up to support them in challenging times. Here's a sampling from the big weekend: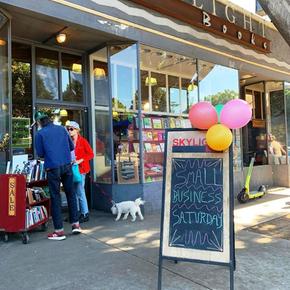 At Skylight Books
Skylight Books, Los Angeles, Calif.: "Happy Small Business Saturday! We [love] being your local bookstore. How lucky are we to spend our days helping people fall in love with books and expand their horizons. Thanks for making it all possible!"
Paper Boat Booksellers, Seattle, Wash.: "Happy Small Business Saturday!! Owen and Kelly are here to welcome you in this morning as we get set for Family Reading Time at 11:00 and we have hot cider and snacks and all the cozy feelings of the festive holiday season! So get out today and support your local businesses--we all need your support and we would love to see your faces!"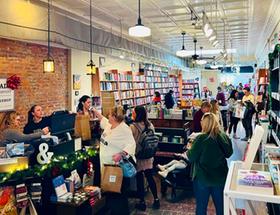 At Reads & Company
Reads & Company, Phoenixville, Pa.: "Woohoo!! SMALL BUSINESS SATURDAY is HOPPING down here at Reads & Company! Stop in for great gift ideas, fun Jolabokaflod gift boxes, our brand-new rewards program, and so much more. Our friendly team of booksellers extraordinaire is ready to help!"
Morgenstern Books, Bloomington, Ind.: "Earlier this morning, just moments before kick-off: Ryann, Helmut, Ashley, and Margaret huddle up with coach Jenna to review the game plan for today's Big Game. It's Small Business Saturday--15% off everything in the store! Let's Go!"
The King's English Bookshop, Salt Lake City, Utah: "Happy #smallbusinesssaturday! Thank you for your support and patronage of King's English, particularly over the past few years of pandemic, new ownership, and big changes. We love you all!"
At the Yankee Bookshop
The Yankee Bookshop, Woodstock, Vt.: "Happy Small Business Saturday! The Yankee Bookshop has been a locally owned Woodstock business since 1935, and we're still going strong, thanks to you our community of book lovers. This holiday season, we hope you support your friendly neighborhood booksellers wherever you are."
The Next Chapter Bookstore, Hermiston, Ore.: "We are ready for your smiling faces this Small Business Saturday! And we're super excited about the sale on our warm drinks and mugs!"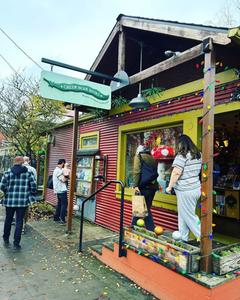 At Green Bean Books
Green Bean Books, Portland, Ore.: "Our little shop is bustling for Indies First Day! Shop small with us today and get some grand recommendations."
Sundog Books, Seaside, Fla.: "Thank you, former First Lady Michelle Obama for highlighting Sundog Books in Seaside, FL on this #smallbusinesssaturday! We are incredibly honored to be included as one of your choice independent bookstores & proud to carry your new book #thelightwecarry."
Newtonville Books, Newton, Mass.: "Bustling Small Business Saturday here! Thank you all for shopping local!"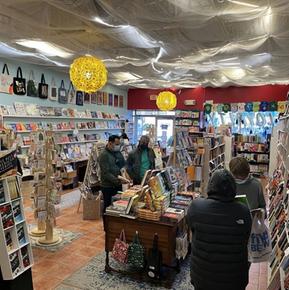 At Loyalty Books
Loyalty Books, Silver Spring, Md.: "How's everyone's #SmallBusinessSaturday going? Sending hugs to our fellow booksellers and retail workers! It's been a busy day for the Loyalty team. Our bodies are tired, but our hearts are full!"
Mystery Lovers Bookshop, Oakmont, Pa.: "THANK YOU!! Thank you to everyone who made this one of the best #smallbusinesssaturday in the history of the store! Thank you to everyone who shopped online and visited us in the store this weekend. Thank you for supporting our store and our #smalltown."
Little Shop of Stories, Decatur, Ga.: "As Small Business Saturday enters its final few hours, we're left with that 'final cookie feeling.' That 'something amazing happened here and we're so thankful and have a slight sugar rush going on' feeling. Thank you to everyone who came out to support small businesses today; you're the true spirit and life of Little Shop and we love ya lots for keeping our little shop going!! We hope you had lots of fun today because we sure did!!"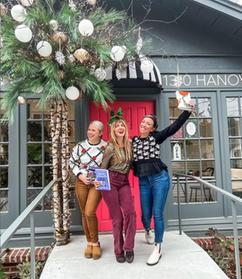 At the Book & Cover
The Book & Cover, Chattanooga, Tenn.: "We have had the best day helping you find books for your friends & loved ones (and yourself!). There's pizza out back and we are open until 8 p.m. tonight--don't forget to join us for cider and caroling at 7 p.m.!"
Kona Stories, Kahaluu, Hawaii: "What a great Small Business Saturday!"
Neighborhood Books, Presque Isle, Maine: "Wrapping up the busiest 8 days of my LIFE. Main Street Mania, school book fair, book box packing, Thanksgiving, Plaid Friday and Small Business Saturday. I am speechless. You guys are the absolute best. You show up for us, support us and are choosing to shop local. We are incredibly grateful for your support. Words will never be enough! I am heading home tired, but so fulfilled."
Duck's Cottage Coffee & Books, Duck, N.C.: "Sunday already? Can't believe another #thanksgiving, #blackfriday and #smallbusinesssaturday are in the #books! things got busy at #duckscottage and we appreciate everyone's patience! Hey--remember when we could only have 6 people inside at a time? That didn't make anyone happy either... two reminders: we close at noon today & don't forget you can #shopsmall tomorrow on #cybermonday."