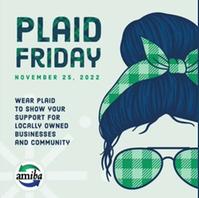 If social media posts from indie booksellers were any indication, Plaid Friday made a notable impression as a prelude to Small Business Saturday. "Are you wearing plaid today?" the American Booksellers Association tweeted. "Happy #PlaidFriday--a day that celebrates the diversity and creativity of local and independent businesses! Plaid Friday is a fun and enjoyable alternative to the big box 'Black Friday' frenzy."
Several indie booksellers across the U.S. celebrated Plaid Friday as a way "to kick things off"--as Battenkill Books, Cambridge, N.Y., put it--on #SmallBusinessSaturday Eve, including: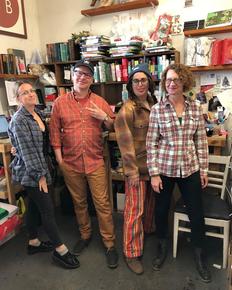 At Napa Bookmine
Napa Bookmine, Napa, Calif.: "Our booksellers were SO plaid yesterday!! Today is Small Business Saturday so make sure and head out to your favorite small businesses to show how much you appreciate them!!! We all appreciate YOU!"
Pig City Books, Lexington, N.C.: "Black Friday? Nope! #plaidfriday in support of small independent businesses."
Betty's Books, Webster Groves, Mo.: "Happy Plaid Friday! Plaid Friday is celebrated across the country as part of the Shop Indie Local Campaign! Consider it an indie shop response to Black Friday at big box stores. We'll see you tomorrow for one of our favorite days all year: Small Business Saturday! It's gonna be a fun one."
Gibson's Bookstore, Concord, N.H.: "Happy Plaid Friday! Wear plaid to the bookstore today and automatically receive 10% off your transaction! Forgot your plaid? Not to worry. The secret word* also gets you the discount.... *The secret word is PLAID."
Sweet Home Books, Wetumpka, Ala.: "Today we are celebrating Plaid Friday! over the last several years, Black Friday has become super chaotic and stressful! We want to join together with other small and local businesses to put the joy back in holiday shopping! We still have amazing deals and promotions (this is our biggest sale of the year!!), but we want to focus on celebrating the creativity and diversity of small businesses. We would love to see some of y'all wearing plaid to help us celebrate today!"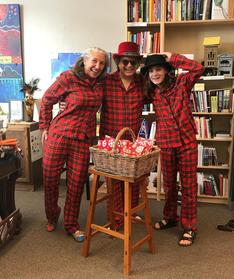 At Francie & Finch
Francie & Finch Bookshop, Lincoln, Neb.: "It's a gorgeous day to be downtown and away from the madness of Black Friday. Come enjoy Plaid Friday with us!"
Lucy's Books, Astoria, Ore.: "Happy Plaid Friday!"
Blue Willow Books, Houston, Tex.: "Take a break from Black Friday... it's #PlaidFriday, a day to cozy up to your favorite local spots! Shoutout to our #Houston bookstore neighbors Basket Books and Art, Becker's Books, Brown Sugar Cafe & Books, Brazos Bookstore, Kaboom Books, Katy Budget Books, Kindred Stories, Murder by the Book. And a big shoutout to the awesome folks at Cactus Music! Show Houston's historic record shop some love on this #BlackFridayRecordStoreDay, and every day."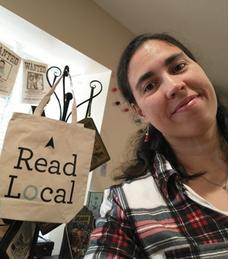 At Portkey Bookstore
Portkey Bookstore, Safety Harbor, Fla.: "Today's Plaid Friday and I'm representing! Plaid Friday is the locally-owned independent business alternative to Black Friday."
Chapters Bookshop, Galax, Va.: "Plaid Friday celebrates the diversity and creativity of local and independent businesses. It's a fun and enjoyable alternative to the big box store 'Black Friday' consumer frenzy. Also, it's a way to show your support for our local economy. THANK YOU for wearing PLAID on November 25th!"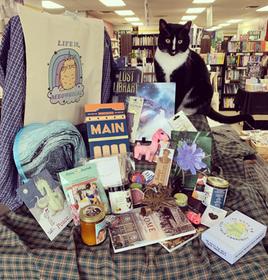 At Keaton & Lloyd
Keaton & Lloyd Bookshop, Rome, N.Y.: "Get ready for Plaid Friday to show support for locally owned businesses such as Keaton & Lloyd Bookshop! We have handmade and local gifts perfect for stocking stuffers plus we support local writers and artists as well!"
Serendipity Books, Chelsea Mich.: "Ody had a blast greeting everyone during Plaid Friday yesterday. Shopping local makes him smile! Will we see you for Indies First today?"
Winchester Books Gallery, Winchester, Va.: "Good Night Little Bookstore! Thank you for an wonderful day celebrating 10 Years of Plaid Friday! See you tomorrow for Indies First/Shop Small Saturday!"