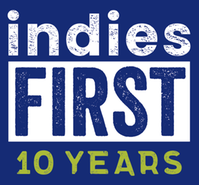 Independent bookstores across the country hosted enthusiastic crowds over the long holiday weekend, encompassing Black Friday, Plaid Friday, Indies First and Small Business Saturday. While last year marked the first major Thanksgiving weekend since the beginning of the pandemic in which people flooded into stores, they usually wore masks, could only enter in limited numbers and were wary of being in large groups. This year, despite Covid's continuing presence, people again flooded into stores, most not wearing masks, and it felt more like a return to pre-pandemic times.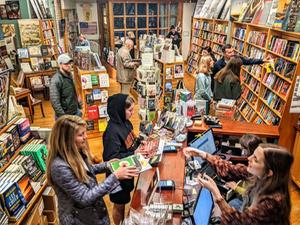 A busy shopping day at Octavia Books in New Orleans, La.
Continuing several Biden family traditions, President Biden and First Lady Jill Biden spent Thanksgiving weekend on Nantucket and shopped at Nantucket Bookworks. The visit was featured on a variety of local and national news media.
Book & Puppet Co., Easton, Pa., was one of two local businesses highlighted in station WFMZ-TV's coverage of Small Business Saturday. WFMZ made the connection with Indies First and quoted co-owner Andy Laties saying that business builds from this point on for the holiday season. "It's always thrilling when things really take off. So it's fun when the authors come in and the people come in to chat with them."
The Lit.Bar, Bronx, N.Y., celebrated Small Business Saturday with a grand re-opening of its bar, which had been closed since the pandemic started. Readers were invited to join a "toast to resilience, community, and starting over."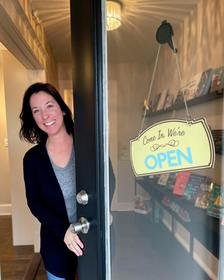 Grand opening at River Bend Bookshop in West Hartford, Conn.
River Bend Bookshop, West Hartford, Conn., held its grand opening on Saturday. It's a branch of River Bend Bookshop in Glastonbury, which opened in 2018 and includes the River Bend Book Truck.
In honor of Small Business Saturday, Stuyvesant Plaza in Albany, N.Y., featured some of its independent business owners, including Susan Novotny of the Book House of Stuyvesant Plaza, "who began working at the store in 1988 before purchasing the business in 1991. 'Our booksellers have always been warmly attached to our book-loving customers,' Susan says. 'They keep us in business with their loyalty and we make it our mission to give back to the community through daily engagement with reading outreach programs, schools, libraries, retirement communities, and more.' "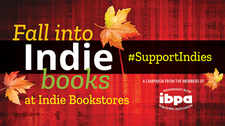 In the runup to Small Business Saturday and Indies First, the Advocacy Committee of the Independent Book Publishers Association launched the "Fall into Indie Books at Indie Bookstores" campaign to "foster IBPA member independent publisher relationships with indie bookstores and help readers fall in love with indie books."
Throughout the month, IBPA members were encouraged to visit their local independent bookstores and take pictures and videos with their books and other indie press books, then post them with comments on Instagram with hashtags #ibpaloves indies, #supportindies and #fallintoindiebooks.
To celebrate Small Business Saturday, Indies First and Black Friday, Libro.fm has been offering audiobook credit bundles at a 10% discount from last Wednesday through today. The credit bundles usually are priced at two for $30, three for $45, six for $90, nine for $135, 12 for $180 and 24 for $360.
And throughout the holiday period, anyone who purchases a credit bundle gets a seasonal audiobook. Choices include Holidays on Ice by David Sedaris, Royal Holiday by Jasmine Guillory and The Matzah Ball by Jean Meltzer.