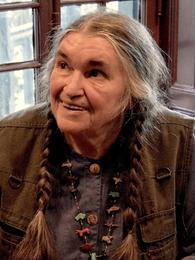 Bernadette Mayer
(photo: Kelly Writers House/Wikipedia )
Poet, artist, publisher and scholar Bernadette Mayer, who "blurred the distinction between ordinary and extraordinary in expansive streams of consciousness" and was most frequently associated with the New York School and with the Language poets, died November 22, Artforum reported. She was 77. Mayer was "widely recognized for her pathbreaking poetry featuring blunt and open musings on the experience of motherhood," and became a central figure of the community surrounding the Poetry Project at St. Mark's Church in New York in the 1970s, eventually serving as director.
As a poet and an artist, Mayer first gained prominence with her diaristic 1971 work Memory. Artforum noted that to make the work, "she shot a roll of film every day for a month. In 1972, at New York's 98 Greene Street, she presented the resulting 1,200 photographs in chronological order accompanied by a thirty-one-part voice-over narration lasting seven hours, in which she offered her thoughts or memories about the various images. The work has since been presented in various forms, including a text edition released in 1975 by New Atlantic Books and an edition including the photographs published by Siglio Press in 2020."
Mayer wrote some 30 books of poetry and prose, including Eating the Colors of a Lineup of Words: The Early Books of Bernadette Mayer (2015); Poetry State Forest (2008); The Desires of Mothers to Please Others in Letters (1994); The Bernadette Mayer Reader (1992); Sonnets (1989); Midwinter Day (1982); and The Golden Book of Words (1978). She was the recipient of a 1995 Foundation for Contemporary Arts Grants to Artists award, a 2009 Creative Capital award, and a 2015 Guggenheim Fellowship. Her 2016 book Works and Day earned her a National Book Critics Circle nomination.
Milkweed Smithereens, her last book, was released this month by New Directions. In a poem from the collection, "Unconditional Death Is a Good Title," published online by the Paris Review in October, she wrote:
maybe it's just fear of the winter, this is a day supposed to be sunny but what is this white sky? seen some yellow & orange trees, the sky is white: western wildfires, we're having a drought.
so many leaves are falling,
it's exhausting