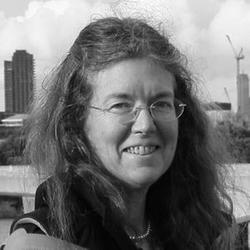 Robin McKinley
(photo: Open Road Media)
Robin McKinley has been named the 39th Grand Master by the Science Fiction & Fantasy Writers Association, which lauded her as "one of the leading writers of the modern fairy-tale retelling genre, and indeed, her debut Beauty, a retelling of Beauty and the Beast, could be said to have started the fairy-tale retelling trend. She is also celebrated for her original fantasy novels. Her 1982 book The Blue Sword received the Newbery Honor, and its 1984 prequel The Hero and the Crown was awarded the Newbery Medal.... Her 1985 anthology Imaginary Lands won the World Fantasy Award, and Water, the 2002 collection she co-wrote with Peter Dickinson, was later nominated as well."
McKinley's other works include Sunshine (2003), a dark sensual vampire fairy tale that won the Mythopoeic Award for Adult Literature and was named to NPR's "Top 100 Science-Fiction Fantasy Books" list and Tor.com's list of "Best SFF Novels of the Decade." Spindle's End, McKinley's Sleeping Beauty retelling, was named one of Time Magazine's "100 Best Fantasy Books of All Time" in 2020.
SFWA president Jeffe Kennedy commented: "I read McKinley's Deerskin in my late 20s and it turned my world upside-down. From there I went on to read everything McKinley has written. With every story, each book, she haunts, delights, and enlightens me. Naming an author who's been such a profound influence on me as both a reader and a writer as SFWA's newest Grand Master is one of the greatest privileges of my life."