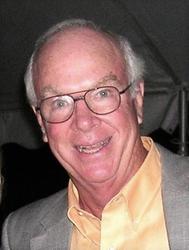 John Storey
John Storey, who founded Storey Publishing with his wife, Martha, in 1983, and whose "passions and entrepreneurial spirit defined the company and became the foundation for today's vibrant and successful publishing program," died November 26, the publisher announced. He was 79.
In 1983, the Storeys bought the publishing arm of Garden Way, a company known for its rototillers and garden carts. The newly created Storey Communications set up headquarters in Pownal, Vt., and focused on books about gardening, farming, building, cooking, crafts and other topics with the mission of publishing "practical information that encourages personal independence in harmony with the environment."
Under John Storey's leadership, the company developed the animal-husbandry series Storey's Guide to Raising, now with 14 titles and 2.7 million copies in print. John and Martha Storey also co-authored the reference title Storey Basic Country Skills, with 200,000 copies in print.
In 2000, the Storeys sold the company to Workman Publishing, and Storey eventually expanded to include hands-on learning books for kids. In 2021, as an imprint of Workman Publishing, Storey was sold to the Hachette Book Group.

Dan Reynolds, former CEO of Storey, who is retiring as senior v-p and publisher of Workman at the end of the year, said, "John Storey was a passionate entrepreneur whose fascinating career reflects much of what was going on in the culture in which he lived, including the back to the land movement, the quest to be self-reliant, and the pursuit of an independent homesteading life. The desire for this way of living became a movement in the 70's and has resurfaced in different ways, on an irregular basis, ever since then. The valuable, trusted information contained in the books John published helped the dreamers achieve their goals which further fueled the promise of it all. The books have evolved as this movement has evolved; one feeds the other."