photo: Michael Goulding
Edward Humes began writing for newspapers while still in college. Ten years later, he won a Pulitzer Prize for his reporting on the military, then started work on his first book. He blends narrative nonfiction with immersion journalism, and has embedded in such diverse settings as a neonatal intensive care unit (Baby ER), the nation's largest landfill (Garbology), the Dixie Mafia's turf (Mississippi Mud) and the Los Angeles juvenile court for his PEN Award-winning No Matter How Loud I Shout. His 2019 true-crime account, Burned, helped free a woman from life in prison. His nonfiction account of the struggle to maintain genetic privacy, The Forever Witness: How DNA and Genealogy Solved a Cold Case Double Murder, is out now from Dutton. Humes and his family split their time between Seattle, Wash., and Southern California.
Handsell readers your book in 25 words or less:
Heartbreaking true crime with a detective who hugs killers into confessing, battles over genetic privacy, and a former actress/Barbie impersonator who solves cold case murders.
On your nightstand now:
Hell and Back by Craig Johnson. I grew up devouring detective and mystery fiction, and the Longmire series has been one of my favorites for years (right up there with Michael Connelly's Bosch books). Lately I've revisited Walt and Vic's world as audiobooks; the Longmire narrator, George Guidall, is SO good.
The Daughter of Doctor Moreau by Silvia Moreno-Garcia. Science fiction was my other jam since childhood, when I devoured all of the H.G. Wells books. I couldn't resist trying this new-old take on the classic.
Just finished but still on my nightstand: Deborah Blum's The Poisoner's Handbook. Historical nonfiction (set in the Jazz Age, no less) meets true crime meets science and invention history. I'm crazy about books in which genres that fascinate me intersect like this, and I have some serious author envy over this book.
Favorite book when you were a child:
The Runaway Robot by Lester del Rey. I think this is the first YA novel I ever read, about a boy and his best friend, Rex--the title character--who spend the entire book traveling the solar system trying to reunite. I first read it when I was eight, I think, but I reread it multiple times. I connected with the story of a boy growing up in a space-faring future society because, back then, that's what I hoped our society would look like by the time I had kids.
Your top five authors:
I'm interpreting "top" to mean top influences on me. Also, I'm cheating on the count, because five isn't enough:
John Steinbeck. His narrative style and journalist's sensibilities drew me in from the very first reading, and his work continues to inspire me as a writer.
Tracy Kidder and John McPhee, two masters of the narrative nonfiction craft.
Mary Roach. I will read anything she writes, because she makes me smarter and makes me laugh at the same time. Whenever I need a lesson on how to write engagingly about science, I read a little Mary Roach.
Rachel Carson. If you are writing about the environment, nature or humanity's impact on the planet, you are building on the foundation Rachel Carson laid down.
The New Journalists: Truman Capote, Tom Wolfe, Norman Mailer, Joan Didion.
Book you've faked reading:
Ulysses, James Joyce.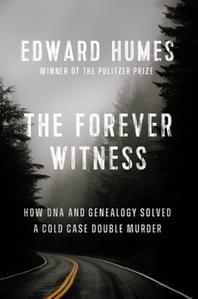 Book you're an evangelist for:
Rising Out of Hatred, Eli Saslow. I've assigned it as reading for several narrative nonfiction classes. Great reporting, masterfully written.
Book you've bought for the cover:
That's a fun memory: Dune, the original paperback edition of Frank Herbert's masterpiece, which I bought used when I was 12. The otherworldly image of a desert vista with caped silhouette figures lured me in despite the book's daunting thickness. It remains one of my favorite reads ever.
Book you hid from your parents:
The Harrad Experiment by Robert Rimmer. I snitched it repeatedly from my older sister's hiding place when she wasn't around, then put it back until next time.
Book that changed your life:
Hiroshima by John Hersey. I first checked it out of the library at age 13, after meeting the bombardier from the plane that dropped the atomic bomb on Nagasaki, whose mother happened to share a hospital room with my mom. I was horrified, disturbed and enthralled by the book: I had never read anything like it. My first takeaway was that there is no way to even begin to comprehend an event of such magnitude without the sort of unflinching eyewitness account that Hersey's boots-on-the-ground reporting provided. The second takeaway came upon later readings: that this slim volume was brilliant journalism with a heart, which is narrative nonfiction's great super power.
Favorite line from a book:
This changes all the time. Right now I have to say it's a simple, deep line from Nikole Hannah-Jones's The 1619 Project, nailing the essential problem of these book-banning times: "If we are truly a great nation, the truth cannot destroy us."
Five books you'll never part with:
My first edition of John Steinbeck's The Grapes of Wrath; my dog-eared 1960s paperback Dune; my equally dog-eared bright-yellow paperback copy of Roget's Thesaurus from my sixth-grade English teacher, Mrs. Weissberg, at Benjamin Franklin Elementary School in Philadelphia; a signed copy of If You Really Loved Me by Ann Rule, who gave me my very first blurb for my first book, Buried Secrets; and my first copy of Buried Secrets. Is there anything quite like the thrill of seeing your first book in print?
Book you most want to read again for the first time:
I'll give you three, because these all surprised, moved and changed my perspective at different stages of my life:
Roots, Alex Haley
Dispatches, Michael Herr
Slaughterhouse-Five, Kurt Vonnegut
Book you wished you had thought of first:
Fast Food Nation, because this story was staring us all in the face, on nearly every street corner in America, but no one saw it until Eric Schlosser showed us--and so damn brilliantly!