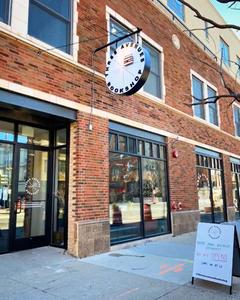 Three Avenues Bookshop, an 1,800-square-foot bookstore selling new titles for all ages, opened last Saturday in Chicago, Ill., Block Club Chicago reported.
Located at 3009 N. Southport Ave. in Chicago's Southport Corridor, the bookstore has an extensive children's section and carries an assortment of fiction and nonfiction. Owners Tim Wurman and Jordan Felkey, who are married and live close to the store, plan to host book club meetings and author talks along with weekly storytime sessions for children.
"We're really excited to be opening a business within our own community," Felkey told Block Club Chicago. "We're also excited because there's been a lot of growth in this area, which now we get to be a part of."
Felkey added that they want to "create a space for community members to come together," where they can "meet, talk about books, talk about life or just connect with others and share stories."
Prior to opening Three Avenues Bookshop, Wurman worked as a software engineer, but he eventually got tired of working remotely and wanted a job that was active in the community. The idea to open a bookstore specifically came from posting book reviews on Instagram, he explained.
Felkey, meanwhile, was a pediatric speech pathologist. "I've got a background helping all kinds of kids and working with teachers on literacy things, so it's really exciting to think about how Three Avenues can work with schools and families. We're figuring out how this store fits in with our backgrounds and our own goals."