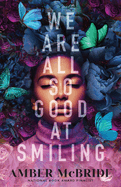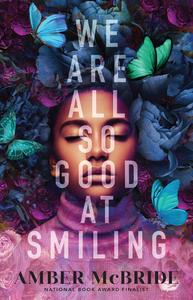 Amber McBride's debut, Me (Moth), won her the 2022 Coretta Scott King/John Steptoe New Talent Award, and was a finalist for the William C. Morris Award and the National Book Award in Young People's Literature. Her second title, We Are All So Good at Smiling, is as powerful as the first--raw and poignant and promising hope, even when it seems there is no way out.
"This is what I know:/ my name is Whimsy & magic is real." Though "most can't see the energy," the 18-year-old sees it "connecting all things." Whimsy, who has once again been hospitalized for clinical depression, meets Faerry, a "mint-green hair, winged boy," at the facility. "Hoodoo is real," she knows, and so are the Fae. The teens connect through their magic and are surprised to discover that, when they leave the program, Faerry's family has moved to the same street where Whimsy and her parents live. But at the end of the street is "a Forest holding a Garden/ filled with stories & magic/ where memories unweave/ unravel & (sometimes)/ trap us in lies." Whimsy is terrified of the Forest and has not gone beyond its edge in 10 years; Faerry is also scared but believes he might find answers within. When Faerry ventures into the Forest, Whimsy follows him and both teens learn that when you're going through Hell, you must keep going.
Whimsy practices Hoodoo, or Rootwork, working with herbs, leaves and crystals. McBride skillfully paints Whimsy's world of sorrow, magic and fairy tales in lilting, passionate poetry: "I'll cleanse my crystals each full moon, dry my herbs and drink/ healing teas. I'll ground barefoot & wild in the dirt, & I'll still/ hurt at the root of me." Each chapter begins with a definition--a plant or tea leaf arrangement or a fairy tale character--that sets the scene and foreshadows the events.
McBride's use of myth and folk and fairy tales is manifold: they are metaphor, comfort and a starting place for healing. The Garden itself is like the nine levels of Hell in Dante's Inferno, and the farther Whimsy ventures into the Forest to save Faerry, the more characters from folklore (Adze, Anansi, Ursula) she meets. Whimsy and Faerry's journey into the Forest unlocks hidden memories from their childhoods, allowing the teens to remember and recover. --Kharissa Kenner, children's librarian, Bank Street School for Children
Shelf Talker: Award-winning author Amber McBride's second YA book is a raw and poignant novel in verse that promises hope.