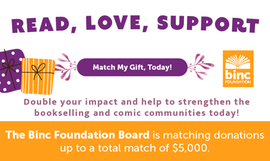 Noting that the Penguin Random House matching gift challenge for the year-end Read Love Support (#readlovesupport) campaign has been met, the Book Industry Charitable Foundation's board members are now offering a second matching donation challenge to help Binc reach $100,000 or more in donations before December 31. The foundation's board will be matching all gifts dollar for dollar, up to a total of $5,000, starting today, December 1.
"I'd like to thank Penguin Random House for their generous matching gift of $15,000," said Binc board president Annie Philbrick, owner of Bank Square Books, Mystic, Conn., Savoy Bookshop & Café, Westerly, R.I., and Title IX, New London, Conn. "Their publisher support helped raise over $28,500 towards the $100,000 goal and has inspired Binc Foundation board members to offer an additional matching challenge to help move us closer to our year-end goal. Binc stands with all book and comic stores across the country and this matching challenge from our dedicated board shows our commitment to book and comic stores and their employees."
Pamela French, executive director of Binc, said "The Binc board members have come together to not only reinforce their dedication to our mission but to also help ensure every book or comic seller who reaches out this year will be helped. I'm grateful and honored to work with this group of industry leaders!"
To donate and have your donation matched for greater impact, click here.