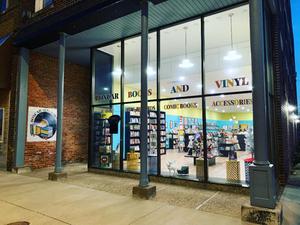 Boxcar Books & Vinyl, a bookstore and record shop in Hoopeston, Ill., is fully open for business after hosting a grand opening celebration last Saturday.
Owners Emily and Bob Brown sell new titles for all ages, with Emily Brown reporting that the inventory is about 70% books, 20% vinyl and 10% gifts. She is an elementary school teacher by trade, she noted, and her daughter has taught middle school and high school. As a result, the store has "very good recommendations" in its children's, middle grade and YA sections.
For adult books there is an emphasis on fiction--literary fiction as well as mysteries and thrillers, plenty of historical fiction and action/western novels. Brown and her team also carry a variety of bookish gifts and sidelines like journals and coloring books.
When it comes to vinyl, Brown said, the store's staff is "personally super into '70s music," but the team has tried to make sure the inventory is very broad and covers "all of the bases." New and used vinyl is available, and Brown added that she's excited about being able to offer indie-exclusive vinyl records. The shop also sells a "whole selection" of record players and accessories like cleaning kits, bags and carrying cases.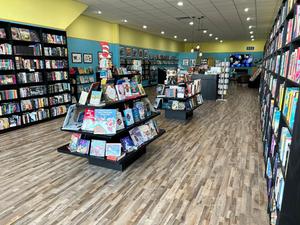 Brown explained that the roughly 1,800-square-foot store features a seating area that will be used for book club meetings and other events. There is an author visit with Rob Witzel, author of Super Penguin, slated for February, and a local art teacher will be doing storytime sessions and art projects. The store also has several book clubs, including an adult book club, a middle readers book club and a young adult book club. For the adult book club, the members choose which books they want to read, while Brown's daughter runs the book clubs for younger readers.
Prior to opening a bookstore, Brown researched the possibility for years, "trying to figure out the details and how we could make it happen." Her family owns a coffee shop in town, she continued, and she started to sell books at the coffee shop as a way to "test the market." The store's adult book club, in fact, began at the coffee shop, and the experiment worked out well enough that eventually she took the plunge of expanding into another building in downtown Hoopeston.
Brown recalled that she was "so nervous" the night before she made that announcement and "didn't know what to expect." The announcement met with a lot of excitement, and that enthusiasm continued with other pre-opening social media posts. The bookstore's building needed a "complete remodeling," and Brown and her husband decided to keep the storefront as open as possible while work was underway, so community members could see the progress "as it was happening."
During the grand opening on Indies First/Small Business Saturday, festivities included a ribbon cutting along with plenty of promotions. There were gift cards for the first 25 people in store and giveaways that included a grand prize of one free book per month for a year. And before the doors opened, Brown said, there was a "line around the block." --Alex Mutter