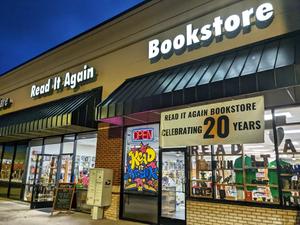 Congratulations to Read It Again Bookstore, Suwanee, Ga., which is celebrating its 20th anniversary with a party on December 3, featuring food, drinks, authors and a two-hour sale.
On Facebook, owner Kim McNamara posted: "When my mom and I opened Read It Again, I was still in college. I spent half the week at ASC, and the other half at the store.
"Back then it was unusual for bookstores to be on inventory. When Della and I decided we wanted an inventory program, I volunteered my ex-boyfriend Mike and his brother Eric to write it. My exact words were, 'no worries mom! I bet they could do it in like a weekend!' Ha. That program is now known as Basil Bookstore Software and they support over 400 bookstores across the country. Mike and I have been married for 17 years and we have 3 kids. The bookstore brought us back together. But that's the thing about bookstores, they bring people together. Mike and I aren't the only ones to fall in love in the bookstore. We're not the only ones who raised their kids among its shelves, or make great friends at book club. Do you have a favorite bookstore memory? We would love to hear it!"