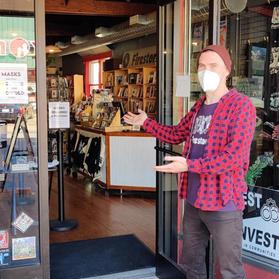 Bookstore face mask policies, for a long time a regular theme in social media posts as booksellers dealt with ever-changing Covid-19 policies and mandates, have been a bit less conspicuous of late. Yesterday, Firestorm Books & Coffee, Asheville, N.C., offered a detailed update on the bookshop's mask policy, noting in part:
"I wanted to take a moment to address why Firestorm is one of the last businesses in Asheville requiring masks, and be open about the ways that this impacts our co-op.... We've seen all kinds of responses to our mask requirement over the past few months--people have turned away not knowing (or caring) that we provide masks at the front door, strangers have cursed at us, a few have made xenophobic remarks, and we've even been harassed with angry voicemails and e-mails!
"But we're sticking to our guns despite the loss of some sales and the emotional toll of arguing with grumpy strangers, because doing what aligns with our values is what we're about. Thankfully, the vast majority of our customers have supported our decisions and respected our boundaries. It turns out that putting on a mask for a few minutes is a pretty easy thing to do, and not everyone assigns ableist, conspiracy-driven meanings to one of the simplest public health considerations of our time. Thank you to our customers who agree to this painless precaution. Of course, if wearing a mask is a genuine barrier, please let us know and we can provide curbside assistance!... Simply put: the pandemic is not over."