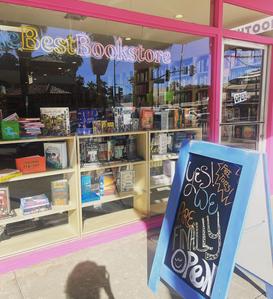 The Best Bookstore in Palm Springs opened last week at 180 East Tahquitz Canyon Way in Palm Springs, Calif. The Desert Sun reported that the business was launched by Paul Carr, a former technology journalist.
Although the decision to open a traditional print bookstore might appear to be unusual for someone who has spent a career covering cutting-edge startups and tech giants in Silicon Valley, Carr believes his time writing about technology actually helped boost his faith in traditional books.
"I've had investors in Silicon Valley who have told me that if someone walked into their office today and pitched them on the idea of the book, they would think it was the most technologically advanced thing they'd ever seen," he said. "It never requires charging; anybody can access it. You could bury it in a field and dig it up in 100 years and it still works.... And the impact it has on your brain is so magical. We just got used to books so I think we just forgot how magical and technologically advanced they really are."
The author of several books, Carr said he first came to the Coachella Valley more than a decade ago looking for a place to write away from the bustle of Silicon Valley. Over time, he returned with his partner, Sarah Lacy, and her two daughters for vacations before finally purchasing a home in Palm Springs in 2019.
"There just reached a point where, during the pandemic, we went from Palm Springs being a place where we had a second home to a place we decided that we wanted to live," he said. "One of the first things I noticed when I moved to Palm Springs was that there's no bookshop. I thought, 'That doesn't make sense. There must be one; I must just not be finding it.' "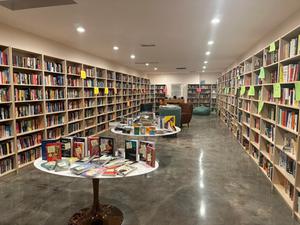 The idea of opening a local bookstore appealed to him as a counter to years immersed in the world of venture capital funding and high technology. "In Silicon Valley, there's a lot of data, there's a lot of analytics," he said. "There's lots of this stuff, but you're dealing with hundreds of millions of users for it to be successful. Everything just becomes a number on a spreadsheet. I think that it's really refreshing to be doing something that's just a bookstore in Palm Springs."
Lacy, who currently runs an education platform for women and other underrepresented groups, will help organize events like author talks for the store. "I've interviewed everyone from Christy Turlington to Al Gore to Margaret Atwood on stage, and I just love bringing (in) authors," she said. "Authors having conversations with authors and connecting them with their fans is the kind of thing that I'm extra passionate about.... We know so many authors and there's so many who come to L.A. anyway, so we're hoping we can siphon people over and bring some to Palm Springs."
She has also been in discussions with the Palm Springs Library and the Plaza Theatre (when it eventually reopens) to co-host larger events at their spaces, while smaller events will be in the bookstore itself.
The store has not yet hired additional staff, but Carr said when he does so in the near future there will be two main requirements: applicants must have retail experience and love books. "I want people to come in and talk about books," he said. "If you don't love books, you're not going to have much to talk about."