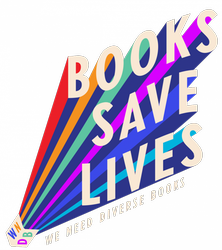 In response to the wave of book bans and challenges that continues across the country and disproportionately targets diverse books by diverse authors, We Need Diverse Books is launching an initiative called Books Save Lives.
Officially beginning today, December 1, the new program will provide grants of up to $10,000 for underserved schools and libraries to purchase banned and challenged books; organize school visits and book giveaways for authors of banned and challenged books; and provide educational materials and resources to those trying to combat book bans at a grassroots level.
WNDB is simultaneously launching a social media campaign with the hashtag #BooksSaveLives that encourages readers to post photos of themselves with the book that saved or impacted their life. The organization also "encourages everyone to speak up at school board meetings, to request diverse books at the library and to purchase and review books by diverse authors."