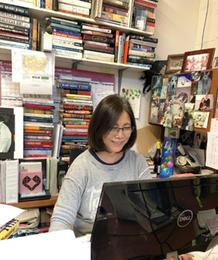 Adrian Newell
Adrian Newell, who has worked at Warwick's, La Jolla, Calif., for 34 years, has retired. Her last day was Wednesday.
Newell was hired in 1988 by Bob Warwick and Barbara Christman, who became her mentor. Though she started as a part-timer, Adrian soon became responsible for small and university press title buys. By 1997, she was officially head book buyer and book department manager at Warwick's.
She started her career at Waldenbooks, where she worked for five years, then moved to the Aztec Shops at San Diego State University for another five years, as assistant to the trade book buyer. Among many duties there, she developed and managed an overstock returns program and purchased children's books for the trade book division.
At Warwick's, as the store noted, "Adrian oversaw major shifts. The Warwick's book department almost doubled in size and the broader bookselling ecosystem itself changed, evolving from a world of phoned-in orders and Books in Print--itself in print!--into a highly computerized industry."
Warwick's added that it "has been immensely fortunate to benefit from Adrian's keen discernment, finely-honed instinct for curation, and aesthetic sensibility. Though she is expert in buying all categories, there are special places in her heart for superlative writing about animals, nature, and travel--and, of course, she always loves a really excellent thriller."
Newell will continue to be involved in the Glenn Goldman Scholarship program for Southern California booksellers, which she and the Southern California Independent Booksellers Association founded in 2009 to honor the late Book Soup founder and owner. (The scholarship is now administered by the California Independent Booksellers Alliance and is open to booksellers throughout California.)
She's also planning to keep reading. In a farewell e-mail to the many publisher reps she's worked with over the years, Newell wrote, "p.s. i'll have lots more time to read so pls send galleys when you can."