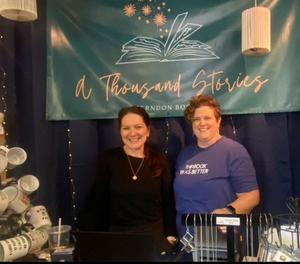 A Thousand Stories-Herndon Books celebrated its grand opening recently at 750 Center Street in Herndon, Va., the Connection reported. The new venture, owned by Michelle Ratto and Beth Luke, is located in the Arts Herndon building.
"This has been a nice opening day for us," said Luke, who recalled the moment before the bookstore's launch when it went from a vision to a reality. Items had been arriving piecemeal. "But one day, a giant pallet got here. And once we started putting those on the shelves, we were like, 'Oh, this is really happening.' "
Ratto noted that the store features new books, primarily for children and young adults, along with a selection of adult titles and gift items. "Things like mugs, puzzles, stuffed animals, and things like that you can pair with a book, and... there is gift wrapping."
A nonprofit organization, Arts Herndon offers a local gathering place to celebrate and advance the arts. In collaboration with Newbery medalist Kwame Alexander--who lived in Herndon and brought many of his new books to the space--and the National Endowment for the Arts, Arts Herndon has presented the one-day Children's Literary Festival.
"A Thousand Stories will be doing book talks in the gallery," said Joanna Ormesher, the organization's president, adding that Arts Herndon will again participate in the Fall for the Book literary festival at George Mason University and she plans to work with A Thousand Stories on that event.
"From a blank room to this, we're super excited with the progress so far," Ratto said.