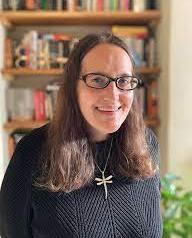 Ruth Hunter
The Booksellers Association of the U.K. & Ireland has named Ruth Hunter as its consumer publications editor. In her new position, she will handle publisher liaison, design and editorial, as well as bookseller liaison and communications. The Christmas and Summer Books Catalogues will now be BA-run projects (in conjunction with Gardners Books) and will no longer be a joint venture with Nielsen.
Hunter had previously been editing Booktime magazine for the BA as a freelancer. Prior to that, she worked for Bertrams Books, editing Booktime and the Bertrams Christmas Catalogue. She joins the campaigns team, and will report to Emma Bradshaw, head of campaigns at the BA.

"We are delighted to welcome Ruth to the team, and look forward to working with her on improving and re-energizing the Books Catalogues projects," said BA managing director Meryl Halls. "Having already edited Booktime and the Bertrams Christmas Catalogue, she is uniquely qualified for this role."

Hunter added: "I'm thrilled to be joining the BA. They are an amazing team to be a part of, and I am looking forward to producing the consumer catalogues, as well as continuing with Booktime magazine. I feel very lucky to be given the opportunity to follow my passion for books and literature, working with publishers, authors and booksellers, in such a friendly environment."
---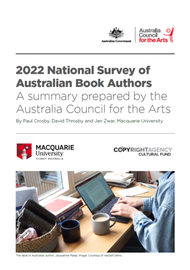 A recent National Survey of Australian Book Authors has found that the average total annual income for authors, including all sources of income, is A$64,900 (about US$43,435), Books+Publishing reported. The percentage of authors earning the average annual income for the Australian workforce--A$70,000 (about US$46,850) in 2020-2021 fiscal year--was down from approximately 43% in 2013-2014 to only one third. The figures represent half or more education and scholarly authors, and one-third of trade authors.
The survey, conducted by Macquarie University researchers Jan Zwar, Paul Crosby and David Throsby, also found that "levels of indie publishing are higher than in the 2015 survey, especially for some genre fiction authors for whom it is a good fit and a more profitable publishing model." In addition, a "striking finding from this survey is the increase in the proportion of authors since the survey in 2015 who are very satisfied or satisfied with their main publisher. Nearly one-third of authors are very satisfied with their publisher, and approximately one-third are satisfied. One-fifth of authors are neither satisfied nor dissatisfied, and approximately 15% of authors are either dissatisfied or very dissatisfied with their main publisher."
Offering what they termed "somewhat good news" regarding how long authors estimated it would take for their careers to recover to their pre-Covid level, the researchers said that "approximately one-fifth of authors thought it would take less than one year and another fifth estimated it will take one year. However, one third of authors estimated it will take two years, and nearly one fifth estimated it will take three to five years, indicating substantial setbacks and ground to be regained. Approximately one-twentieth of authors estimated that their careers wouldn't recover from the pandemic."
---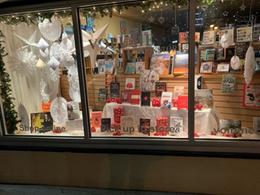 "Is there anything more inviting than a good indie bookstore window display?!" the Canadian Independent Booksellers Association asked while highlighting some holiday-themed examples, including Laughing Oyster Bookshop, Courtenay, B.C.; and Volume One Bookstore, Duncan, B.C, which noted: "Fired up on sugary cookies, a couple « elves » have done up the Christmas windows. Night-shop our windows and reserve any books you like for pickup later, by typing keywords from author or title into the search tool on our website. All the windows are looking pretty sweet downtown."
Another Canadian indie getting in on the fun is the City & the City Books, Hamilton, Ont.: "Holiday window now up! Come say hi to Krampus, Frank, and their little friends and have a licorice allsort too! Once again huge thanks to @trishaleighlavoie and Margaret Juraj for once again putting together another fabulous window!" --Robert Gray