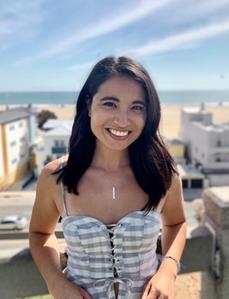 Olivie Blake is the author of The Atlas Six and its sequel, The Atlas Paradox (Tor)--about a society of magical academicians facing betrayal and chaos--as well as the viral hit Alone with You in the Ether (re-releasing this month from Tor). As Alexene Farol Follmuth, she wrote My Mechanical Romance, a YA rom-com.
Handsell readers your book in 25 words or less:
Six-person love story/slightly deranged family drama that takes place within an Extremely British (implications both derogatory and affectionate) secret society.
Alternatively: hot nerds, quantum physics is magic now, everyone is a rival and, at any moment, somebody might die.
On your nightstand now:
Little Eve by my beloved auto-buy author Catriona Ward; Dogs of Summer by Andrea Abreu (I picked this up because it was recommended by my local indie for lovers of Ferrante's Neapolitan Novels, of which I am EXUBERANTLY one); and Bloodmarked by Tracy Deonn, a hotly anticipated release for me.
Favorite book when you were a child:
Ella Enchanted by Gail Carson Levine; Catherine, Called Birdy by Karen Cushman; Dealing with Dragons by Patricia C. Wrede; Diana Wynne Jones's The Chronicles of Chrestomanci books; Tamora Pierce's The Song of the Lioness quartet; and when I was a bit older, I Capture the Castle by Dodie Smith. (If this list feels familiar to anyone, I assume that you, like me, now love Alix E. Harrow as an adult.)
Your top five authors:
Ahh, starting off with an impossible question. I'll try to just go with my gut, because otherwise we'll be here all day. Elena Ferrante, definitely, as I've mentioned. Zadie Smith--I think White Teeth is pitch-perfect. V.E. Schwab for the beloved Shades of Magic trilogy. Carmen Maria Machado for basically blurring genre lines, especially in In the Dream House. Ottessa Moshfegh, because I love what she's done for sad girls in literature.
Book you've faked reading:
I don't actively fake it, but I'm not that well-versed in "classic" (interpret that as you will) fantasy. I've read The Hobbit but couldn't really get into the Lord of the Rings trilogy, and I haven't seen the films. I also haven't read or watched Game of Thrones for a lot of reasons (e.g., I was in college when it came out and didn't have HBO), but mainly that I'm such an enthusiast of Philippa Gregory's Cousins' War series that every time I happened to hear about a Game of Thrones plotline, I was, like, wait, you mean the princes in the tower? Are you guys talking about Richard III and Elizabeth of York??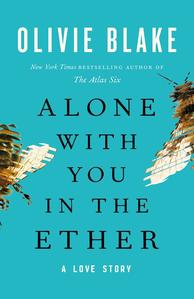 Book you're an evangelist for:
Catherine House by Elisabeth Thomas. I think it is extremely funny and lyrical and a fantastically unexpected story about agency and self. Also, If I Had Your Face by Frances Cha, another perfect book. People who enjoy ensemble casts will appreciate the way her story lives in the space between character points of view--what one character sees that another doesn't. And a book I won't shut up about is Light from Uncommon Stars by Ryka Aoki. It seems weird to say no one is talking about it, because plenty of people are, but it's a must for cozy, found-family sci-fi/fantasy.
Book you've bought for the cover:
The hardcover version of Everyone Knows Your Mother Is a Witch by Rivka Galchen, and what an excellent choice that was. Rivka should absolutely be on my list of favorites! I also love her motherhood memoir, Little Labors, which I read as I imagine it was meant to be read--while breastfeeding at 3 a.m. She also wrote a very good essay on the many-worlds interpretation that I used in writing the Atlas series.
Book you hid from your parents:
Oh gosh, a lot of bodice-rippers, ha. And The Mists of Avalon by Marion Zimmer Bradley. My entire sexual awakening revolved around Arthuriana, honestly.
Book that changed your life:
So, so many, but coming to mind now is No One Is Talking About This by Patricia Lockwood. Oh, the tears. I read it while pregnant and rage-laughed through part one (by design, of course) and then felt absolutely washed clean as a human being by the entirety of the second act.
Favorite line from a book:
"Motherhood is not a house you live in but a warren of beautiful rooms, something like Topkapi... some well-trod but magnificent place you're only allowed to sit in for a minute and snap a photo before you are ushered out." --From The Golden State by Lydia Kiesling, which I recently read and truly, deeply cherished.
Also, this from Henry and June by Anaïs Nin, which has many quotable lines, but I am always mentally laughing at this one: "Hugo [Anaïs's husband] reads my thirty pages on June [the woman Anaïs is in love with/erotically fixated on] and exclaims they are good. Again I wonder if he is only half alive or simply inarticulate."
Five books you'll never part with:
Fault Lines by Emily Itami, which is a bit like a Sally Rooney love story with a sprinkle of Bridget Jones verve, and the four Neapolitan Novels. No, let's count those as one book. Okay, so Fault Lines, My Brilliant Friend by Elena Ferrante, Henry and June by Anaïs Nin, I Capture the Castle by Dodie Smith and Gideon the Ninth by Tamsyn Muir, which really, really makes me laugh. Wow, what an odd collection. I contain multitudes!
Book you most want to read again for the first time:
Rebecca by Daphne du Maurier and The Count of Monte Cristo by Alexandre Dumas are books I read in high school that I think have really affected my personal literary aesthetic. I've reread them both multiple times, but there's something about being in the throes of youth and experiencing a long-term revenge scheme for the first time. I'll also add a short story here, "The Difference Between Love and Time" by Catherynne M. Valente in the Someone in Time anthology, edited by Jonathan Strahan. The collection is brilliant, but that story is a standout for me. It has all the wit you'd expect from Valente with an unexpected emotional depth.
Best books read while breastfeeding:
I like to think, based on the motherhood memoirs I have read and felt a kinship with, that there's this cult of motherhood involving the bleary wee hours where we all sort of occupy the same mental house of exhaustion and love. I used to go through almost a book a night--just me, my nursing son and my Kindle and/or phone screen. Of these, my favorites were the Outline trilogy by Rachel Cusk, which is just my favorite form of narrative style. (I like dialogue and gleaning what I need to about the narrator purely from what they observe in others. It's a fun game for me, a nosy person.) I also loved Pachinko by Min Jin Lee, which was an absolute life-changer of a book. I was deeply, deeply invested in the entirety of that family and everyone their lives touched. Lastly, Beautiful World, Where Are You is my absolute favorite Sally Rooney novel. What can I say? I love a lengthy rumination.
The flip side of this question is cozy books I read while pregnant, which was an utterly miserable time. (Sciatica! Carpal tunnel! Spontaneous nosebleeds!) I'd just like to offer my very real thanks to Elle Cosimano for Finlay Donovan Knocks 'Em Dead, TJ Klune for The House in the Cerulean Sea, Fredrik Backman for Anxious People and Cat Sebastian for her entire oeuvre.