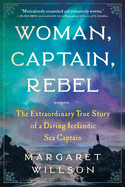 Anthropologist and researcher Margaret Willson spins a real-life tale as compelling as any fishing yarn in her third nonfiction book, Woman, Captain, Rebel. Willson's fascinating biography of Captain Thurídur Einarsdóttir (1777-1863) tells the true story of a female Icelandic sea captain who defied gender conventions throughout her long life. With elements of nautical and feminist history, as well as an account of how Einarsdóttir solved a high-profile crime in her village, Willson's account breaks narrow genre conventions in the same way Einarsdóttir herself defied the expectations placed on women of her time and place.
Willson (Seawomen of Iceland) begins by recounting a visit to Stokkseyri, Einarsdóttir's home village, and her subsequent discovery of a set of newspaper articles detailing Einarsdóttir's life, relationships and career. She sets the scene of Einarsdóttir's family home, recounting her adventures as a child (even then she loved to fish and often wore trousers) and the curse that plagued her family after her father, Einar, turned away a young boy in need of food. Willson introduces a cast of colorful characters (including an astonishing number of men named Jón) who populated Einarsdóttir's life: her fellow sailors and deckhands; the local pastor who became an archbishop and Einarsdóttir's staunch ally; her two siblings and their spouses; and a few local bigwigs, both Icelandic and Danish, who did their best to thwart her successes. Willson also shares the tragedies of Einarsdóttir's life, including the death of her daughter, Thórdís, and several occasions when she lost her home or assets and needed to start over. Throughout the narrative, Willson emphasizes the courage, resilience and integrity of her central character: especially later in life, Einarsdóttir did not hesitate to seek justice for herself or for members of her community who had been wronged.
Though 18th-century rural Icelandic customs may be unfamiliar to modern readers, Willson gives plenty of background on fishing practices, laws of employment and landowning, marriage customs and other norms that shaped Einarsdóttir's life and those of her community. Willson weaves these in with a brilliant portrait of Einarsdóttir herself: intelligent, hardworking and determined to secure her own stability and success through fishing, farming and later several other occupations. Through her account of Einarsdóttir's adventures, Willson calls into question the male-centered images of life at sea, and the still-persistent bias against women participating in physically demanding trades such as deep-sea fishing.
With a clear, compelling narrative voice, Willson illuminates the life of an extraordinary woman and brings rural Iceland to life for her readers. --Katie Noah Gibson, blogger at Cakes, Tea and Dreams
Shelf Talker: Anthropologist Margaret Willson brilliantly illuminates the life of a female Icelandic sea captain who was also a community leader.