In the Before Times, otherwise known as the final morning of the pre-pandemic Winter Institute 2020 in Baltimore, Md., Doug Seibold, president and publisher of Agate Publishing, stood at the podium during the Publisher Rep Breakfast Presentations and said that for him, the moment represented "an opportunity to talk about a very special, symbiotic relationship that I feel exists between independent publishers and independent bookstores.... Thank you for making space for the new voices we bring you, and for helping us and our writers find a place in our industry."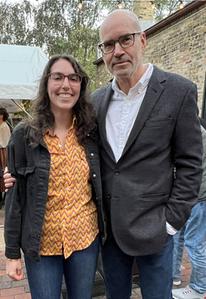 Doug Seibold with his daughter Jane, Agate's production manager.
In recent weeks, Seibold and I have been continuing a conversation about this topic that dates back, as it happens, to the early 2000s. Most recently, after discussing our mutual support for England at this year's World Cup, we talked about how the relationship between indie publishers and booksellers continues to grow even as the book business rapidly changes.
Seibold cited as examples two nearby Chicago area bookstores, Javier Ramirez's Exile in Bookville on S. Michigan Ave. and Nina Barrett's Bookends & Beginnings in Evanston. "I appreciate more than ever that as a small business, Agate has more in common with stores like Javier's and Nina's than it does with the Big 5 presses, and I think they'd agree they have a greater kinship with Agate than they do with Amazon or B&N. Scale is the big differentiator in American business. Amazon was a very effective disruptor of the Big 6 publishers and Big 2 retail chains dominant when Agate started, but it's become impossible not to see their overweening scale as a threat to our whole industry. One effect of the DoJ v PRH trial from last summer was highlighting just how different PRH's business is from that of companies like Agate, especially in its focus on the very biggest authors."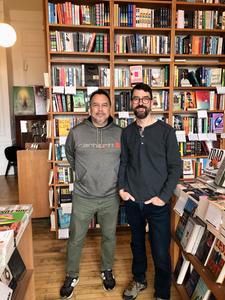 Javier Ramirez and Keir Graff
In late September, Agate's indie connection was celebrated when Publishing Cocktails, a series that highlights Chicago's thriving publishing scene, held an event at the Peckish Pig in Evanston to feature upcoming titles from Agate--which is celebrating its 20th anniversary this year--as well as Northwestern University Press and Rose Metal Press.
Publishing Cocktails was co-founded in 2011 by Javier Ramirez and Keir Graff, author and former long-time editor of Booklist, "as a way to build community and collaboration among Chicago's most interesting book people," Ramirez noted. "We cast a wide net, including not only booksellers but authors, editors, publishers, publicists, sales reps, agents, librarians, reviewers, interns and power readers.
"Usually, we meet up in a bar to talk about books and the book business over drinks, but we also host an annual summer book swap and holiday season cash mob to support a local indie bookstore. Our goal has always been to make the Chicago literary community feel smaller, more welcoming, and better connected. But as we enter our second decade, we're thrilled to see that our model has been adopted in other cities, including Seattle (Lit Up) and Milwaukee (Publishing Cocktails Milwaukee). This year we've even fielded inquiries from Minneapolis and Denver. We love sharing our story and encourage others to host their own Publishing Cocktails events!"
Author Jonathan Black and Nina Barrett
Noting that Chicago "has a disproportionately small trade publishing community for a city its size, and PC has become an important way to connect folks across the area," Seibold said he was contacted earlier this year about holding a PC event in Agate's vicinity, Evanston.
"I suggested a venue on Howard Street, the actual border between Chicago and Evanston, which seemed apropos," he added. "I also reached out to my friends Parneshia Jones, executive director of Northwestern University Press, and Kathleen Rooney, co-founder of Rose Metal Press, to be co-hosts, as they're both based north--Parneshia (and Northwestern of course) in Evanston, and Kathleen in the far-north Chicago neighborhood of Edgewater.
"Agate took on a bigger role for this particular event in part because I saw it as a great way to celebrate our anniversary. We incorporated in early fall of 2002, and signed our first contracts for the initial books we published over the course of the following fall and winter, and also sent out our inaugural call for submissions that October. Who better to mark this milestone with than professional colleagues from across the area? Especially since there've been so few opportunities to assemble this way since the onset of the pandemic."
About 100 "local publishing folks turned up" for the event, Seibold said. "From our local indie bookstore contingent, Nina Barrett of Evanston's Bookends & Beginnings was there--she is also an Agate author (The Leopold and Loeb Files, 2018); as did Jeff Deutsch, all the way from the South Side and Seminary Co-op, and whose own book In Praise of Good Bookstores came out in April from Princeton University Press. There were also folks from local magazines and news outlets, freelance writers, authors, bookstore staff, and more. And of course Keir Graff is another author-editor himself. I felt like the only non-hyphenate involved."

The future of the book trade is uncertain for many reasons, but Seibold has faith it will favor indie publishers and booksellers: "When I started Agate, I used to tell people we could flourish by making smarter, more discriminating, more focused choices amid what the big companies overlooked, oftentimes sheerly as a product of their size. That's not so different from the myriad large and small ways indie stores have found to better serve their unique communities than is possible for a one-size-fits-all chain operation."