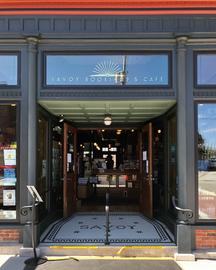 Booksellers and baristas at Savoy Bookshop & Cafe in Westerly, R.I., have unionized, the Westerly Sun reported.
They are joining United Food and Commercial Workers Local Union 328 and have been voluntarily recognized by store owner Annie Philbrick, who also owns Bank Square Books in Mystic, Conn., and Title IX in New London, Conn.
Savoy Bookshop employees delivered a letter to Philbrick on November 22 announcing their decision to unionize. The letter stated in part: "Our decision to organize is the result of months of conversations between staff, other booksellers, and our families. It is rooted in love of our work, our community, and our personal and professional investment in the company's success. It is a reflection of our passion for our workplace and a confirmation of the workers' integral functions within it."
In a statement Philbrick said the bookstore and cafe was fortunate to have a team of staff members who "are passionate about what they do," and the hope going ahead is to "work together to secure a future for both the company and the people who help make Savoy in integral part of the community here in Westerly."
Bookseller Danielle Beliveau told the Sun that the unionization effort began earlier this year and has involved eight to nine staff members. They were inspired by booksellers at other stores around the country who have unionized, including those at Politics & Prose in Washington, D.C. She said: "Hearing that news, we were like, 'is this something we could do?' " From there, they reached out to Local 328.
Contract negotiations will begin in the new year.