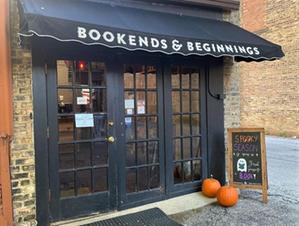 Bookends & Beginnings' current location.
Bookends & Beginnings, Evanston, Ill., which must move at the end of January, has launched a GoFundMe campaign to pay for the costs of the move, including 40,000 books, and for building out its new space. Last summer, a new landlord increased the store's rent by 125%, which owner Nina Barrett called "unaffordable." She has found a new space nearby, but the store "wasn't expecting to be in this situation" and has "no reserve funds," she wrote on the GoFundMe site. The campaign, which began this past weekend, has a goal of $250,000 and, as of this morning, already has raised nearly $40,000.
On the campaign site, Barrett noted that while the new space is on a major street with more exposure, big front windows, two floors and more amenities, it is "a giant vanilla box," without the charm of the current location, a cozy, worn spot on an alley. The new spot is "historic, but the kind of charm and magic that are such an integral part of our identity are going to need to be created from scratch," Barrett wrote. "We already have a plan to combine new and used fixtures, color and art, and salvaged lighting and furniture to create a distinctive space that you'll love visiting as much as you did our old space." The store also intends to expand its children's selection, host more events, and eventually add a bar.
Barrett said that the need for contributions is all the more urgent because of problems and delays in receiving financial help from the City of Evanston. Bookends & Beginnings hoped to get a $475,000 grant through the American Rescue Plan, which is supposed to help small businesses and municipalities, but the City said this kind of project is ineligible. The City's economic development committee has recommended a grant of $83,000, but this will have to be approved by the City Council, which would happen at the earliest at a meeting on December 12. The committee has said it doesn't usually fund more than 25% of the cost of such a project, but said there might be other ways of adding funding, including a low-interest or interest-free loan.