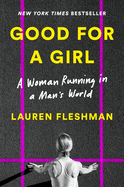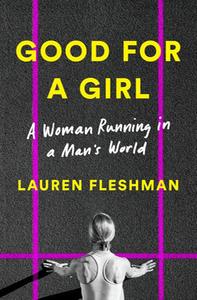 Lauren Fleshman, five-time NCAA running champion at Stanford University and two-time national champion at the professional level, always displayed obsessive dedication, commitment and drive. In her superb memoir, Good for a Girl, she opens a door into her athletic and personal life, baring honest, hard truths about her path to becoming "one of the most decorated American distance runners of all time." She also fearlessly exposes the often dark, demanding underbelly of female sports and how she believes it needs to be reformed.
Fleshman was born in 1981 and grew up in a middle-class family that ate dinner together every night. Fleshman's father was a contradiction: big-hearted and charismatic, gruff and hot-headed. But Fleshman's abiding love for him--and her constant seeking of his love and approval--became a driving force: "He was the kind of dad who wanted sons, but he got two daughters and refused to adjust his parenting plan." Her father instilled principles of excellence that carried over into Fleshman's life--especially when she found sports. She was a gifted runner in middle school PE, but after being beaten by a boy in a school race, she started showing up late. The track coach gave Fleshman an ultimatum: he would waive her "punishment" of collecting 150 soda cans for recycling if she'd agree to compete in a track meet. This launched Fleshman into competitive running; she excelled throughout high school, college and beyond, was sponsored by Nike, and later became a sought-after coach and entrepreneur.
Straightforward and well-structured, this memoir traces the many challenges, setbacks and confusions on Fleshman's road to success. Her life experiences serve to fortify facts and statistics that support how sports participation can substantially impact a woman's life. However, because women are forced to keep up in a male-dominated world, female puberty is often "framed as a threat to performance." The pressure of competition among girls fosters eating disorders, physical problems, injuries and mental health issues. In addition, expectations for women to be "feminine" create a clash between being both physically strong and sexually attractive.
Her discussion of physiology and sports psychology enhance Fleshman's impassioned, deeply personal narrative. She beautifully balances the book with equal parts joy and victory, pain and heartache. Good for a Girl is a necessary, important read that will enlighten athletes of all genders, their coaches and those who cheer for them. --Kathleen Gerard, blogger at Reading Between the Lines
Shelf Talker: This impassioned, enlightened memoir by Lauren Fleshman, an exceptional American distance runner, explores competitive athleticism.