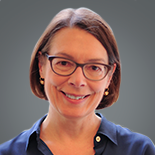 Trish Todd
Trish Todd, v-p, executive editor for Atria Books, will retire at the end of this year. For the past 27 years, Todd has been part of Simon & Schuster, with key roles at Touchstone, S&S and, for the last four years, at Atria.
"While Trish is perhaps best known for her role in making Philippa Gregory a bestselling franchise, and in helping to bring her to be published by Simon & Schuster on a worldwide basis, she has had a long and celebrated list of bestsellers in both the nonfiction and fiction arenas," noted Lindsay Sagnette, v-p, editorial director, Atria Books.
Earlier in her career, Todd worked as an editorial assistant at McGraw-Hill and Arbor House before joining Pocket Books. She then worked briefly as a publicist and spent three years as a literary agent before joining Berkley as a senior editor. In 1990, she moved to Dell, and rose to become associate publisher of trade paperbacks, acquiring and editing numerous paperback bestsellers and notable reprints. During her career, she has acquired a long list of bestselling books across multiple imprints at S&S.
"Trish's sales presentations are a master class in how to position a title with precision, flair, and a sense of limitless possibility," Sagnette observed. "The passionate connection she feels for her books and authors is contagious. We will miss having her wise counsel, her ready wit, and her deep knowledge of all things publishing just down the hall."