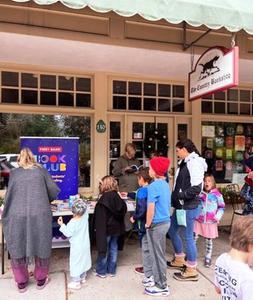 Customers during the outage.
With power out in much of Moore County, N.C., following a targeted attack on two power transmission substations Saturday night, the Country Bookshop in Southern Pines has been trying to be a "beacon of light" for the community by staying open and distributing free children's books along with soup, chili and snacks.
"We wanted today to bring a little spirit to everybody," said bookstore manager Kimberly Daniels Taws on Tuesday. She's run the 3,000-square-foot shop for the past 10 years and reported that people in town have been "dispirited and demoralized," and the fact that the outage was caused by a deliberate attack has been a particularly "tough cookie for people to swallow."
With that in mind, Daniels Taws and her team wanted to "remind people of what our community really is and who we really are." They received a $2,000 donation from First Bank in Southern Pines to give away children's books, and from 11 a.m. to 2 p.m. yesterday they gave out free books and food. The bookstore was the only store open in downtown Southern Pines, there were people "lined up at the door" and it was a "heartwarming experience," she said.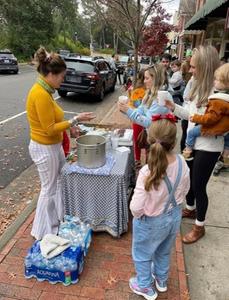 Kimberly Daniels Taws serving soup during the blackout.
By the end of the event the team had exceeded the value of that initial donation and were out of food. Nevertheless the bookstore will hold another community giveaway today and "eat the cost," though the Country Bookshop is accepting donations through its website. After the event on Tuesday, Daniels Taws drove up to Raleigh to "make a lot more soup" for today.
Despite the cost, she continued, "we need to bring people's spirits up." She feels it is "really important for the bookshop to be a beacon of light for people, and that is the main thing. That's all I can do."
Daniels Taws recalled that when power went out on Saturday evening, it became clear pretty quickly that it was "not a regular power outage," due to the fact that several towns in the area lost power at once. "Even a giant ice storm," she said, "is not that complete," though it was not until Sunday that it was widely known that an attack caused the outage.
For the first 24 hours or so, people were processing the fact that "this is happening," and figuring out "how do we get through it." People in town have been "shell shocked," Daniels Taws added, and she and her team decided that they would close on Monday but from Tuesday forward be "open no matter what" and in "any capacity we could."
"People need to come together right now," Daniels Taws said. --Alex Mutter